Indian cinema, the largest film industry in the world with bollywood as it's elder son and largest film prdoucer. Some of us must have read in our GK book that the first Indian movie was Raja Harishchandra (1913), a silent feature film by the legendry filmmaker DadaSaheb Phalke. Now, here is Bollywood in 2019, producing movies in 3D and even in 4D now, VFX, IMAX, running alongside Hollywood. No matter what some people say, Bollywood has it's mark just like Hollywood. We have given some great movies, songs, actors and of course, good revenue.
We all have some actors that we admire, we follow their daily life gossips, their upcoming movies. We follow their fashion style, copy their dialogues, operate fan pages. Social Media has made it more easy now to connect with your desired actors or role models. But yet, sometimes we lose some fun facts. For example- The famous term "Enna Rascala", linked with Rajnikanth, well the superstar never said Enna Rascala in any of his movies or action scenes. The grand movie Mughal-e-Azam, was a trilingual movie, shot in Hindi, Tamil and English! But because of the failure of the Tamil version, the english version was not released. The iconic antagonist Gabbar Singh played by late veteran actor Amzad Khan in the highest grossing Bollywood movie of all time Sholay, was to be played by Danny Denzongpa as Javed Akhtar found his voice a bit weak. But now we can not imagine Gabbar without Amzad Khan. We also have a 20 min song, "Ab tumhare hawale watan sathiyon", featured in 3 installments. We have movies with 2 intervals, Mera Naam Joker and Sangam. The longest running movie is also given by us, LOC: Kargil. We Indians, buy the most film tickets in the world with around 3 billion tickets.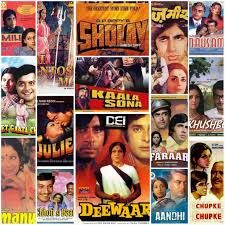 In it's long ongoing journey of 105 years Bollywood movies showed us different aspects of Indian society. From old romantic & drama movies to movies like Toilet, Pink which questioned tabboos set by the society or political parties, Bollywood plays a vital role in shaping our views and in informing unaware people about what this world has to offer us.