Article 15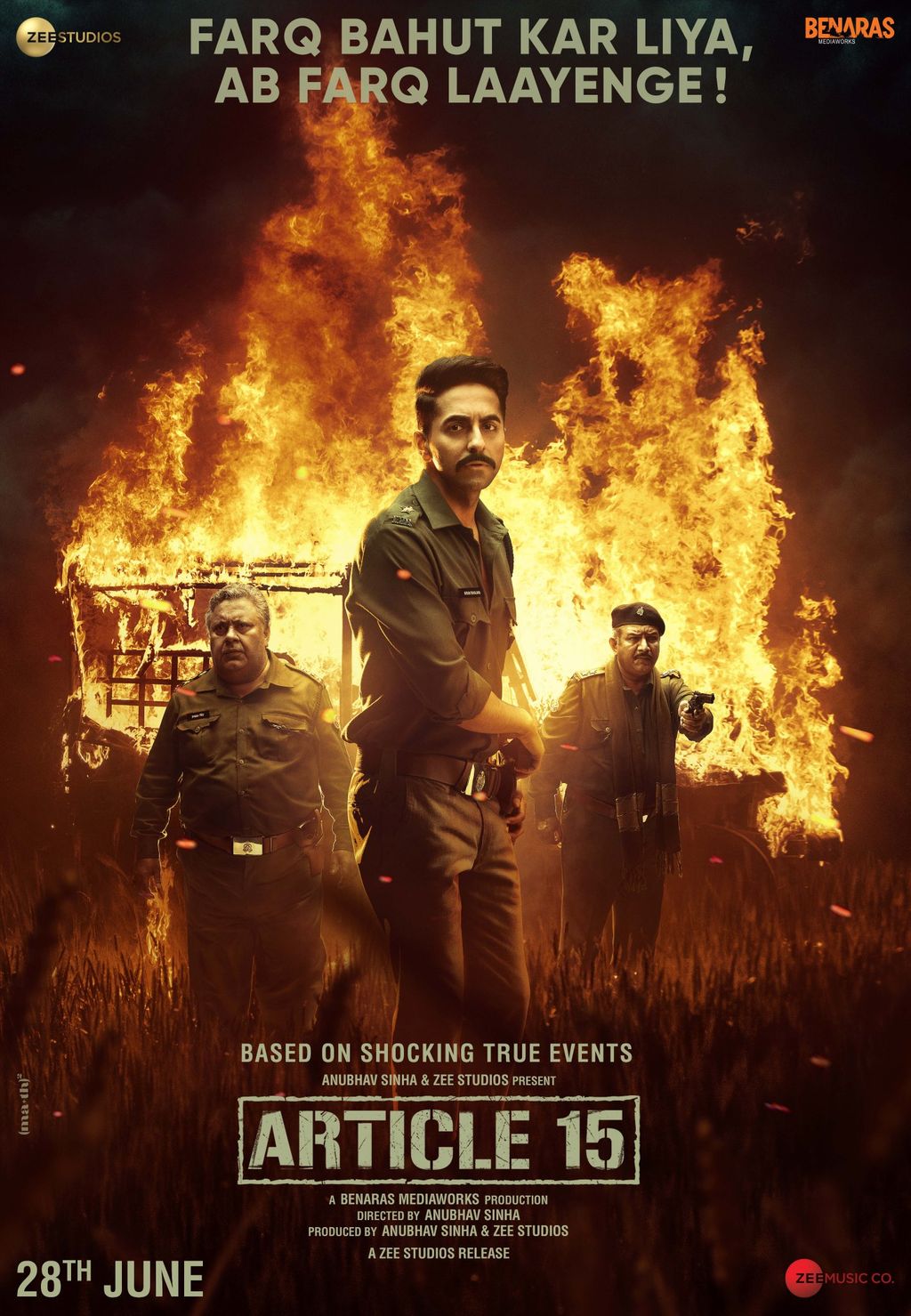 It's not the most anticipated movie, but it's surely a game-changer. It symbolizes the changing trend in mainstream cinema. Earlier all the audience wanted,was an in-your-face-happy film, where everything seemed to be unusually perfect .You could tell that, the life shown on big screen is a dream world, our ownLa La land but still, we loved to watch those movies over and over again. It's because we saw movies as a source of entertainment, our escape from our mundane life. However, times have changed and for good. Now, the audience is looking for entertainment with some enlightening experience and a pinch of reality. The audience today wants to see realistic cinema, a plot which is driven by strong content, not by Megastars. And "Article 15", directed by Anubhav Sinha and produced by ZEE Studios, is exactly the movie which the young audience is craving for.
The germ of the plot is born from the Article 15 of the Constitution which declare "Prohibition of discrimination on grounds of religion, race, caste, sex or place of birth. This law was propounded by the maker of Indian Constitution Dr B.R. Ambedkar.It's a part of our written constitution but sadly, no one follows it. This film is a reality check, presenting those shockingly true incidents which we often turn a blind eye to. Hopefully, this movie is going to mark a change in our outlook towards caste- related issues. It won't make the problem completely disappear but it will mark one step towards eradicating caste-hierarchy problem prevailing in India.
The movie centers on the life of few police officers who have landed up with a case where Dalits are being raped, kidnaped and murdered in a village because of their low status in the Caste hierarchy. The movie is inspired from true life events such as 2014 Badaun gang rape allegations and 2016 Una flogging incident. The former incident is about two teenage girls, belonging to the Dalit (Untouchables) caste, who were gang raped and were hanged on a tree, while they were still alive. This incident took place in Katra village of Budaun district, Uttar Pradesh.On the contrary, the CBI reports claimed that there was no evidence of rape and the physician, who conducted the initial examination had never dealt with rape examinations before. Hence, his report cannot be accepted as a valid proof. However, on 28th October, 2015 the POSCO Court rejected the CBI closure report which was a major setback for the CBI. The victim's family reported that they were murdered because they belonged to a low caste i.e. Dalit. Similarly, in the case of 2016 Una flogging, a Dalit family of seven was tortured mercilessly in Mota Samadhiyala village near Una in Gir Somnath district of Gujarat state of India, by a group of people who came in two cars. Luckily, four of them survived and were rushed to the hospital on time by the Police. The assault was recorded on camera and was made viral on Social media.
In this film, Ayushmann khurrana plays the role of a cop who has been roped by Isha Talwar's character Aditi to solve a case involving the rape and murder of Dalit girls in a village. The scenes depicted in the trailer might seem appalling in the first instance, like the shot of two girls hung by the tree or a few boys being beaten up in the name of "honor killing", but this is the life of a Dalit in India. The situation which we can't bear to see in a movie, they go through this situation on a day-to-day basis. A portion in the trailer, where the cops are discussing about the different divisions and sub-divisions in a caste and how people are treated according to that discrimination, that scene can be observed in our lives as well, maybe not that much prominent in metropolitan cities but in villages and rural parts of India, yes. This practice continues to exist in the interiors of India, the parts where Constitution of India, law and order does not hold much importance. They are governed by the traditional set of beliefs which has been going on since generations. No one has the courage to raise their voice against this brutal practice and if anyone does, they don't survive to see the next sunrise or maybe worse.
There are 260 million Dalit people around the world, 166,635,700 of whom live in India. It is estimated that a crime is committed against a Dalit person every 18 minutes. People residing in smart cities live in a bubble that these problems don't exist anymore, but sadly they do. With movies like "Article 15" people will become more aware about the social problems pressing our country right now. It's the tendency of our human brains, when we read about something we tend to forget about it very soon but when we see the exact thing in a visual format like a an image or video or a movie, that image isretained in our memory for a longer period of time. Also the impact is much more powerful. Hence, movies is the best medium to deliver a social message to the mass and create a long lasting impact.
Let's take a look at the Dalit based Hindi movies that has been made in the past few years,
• Sujata (1959): The Bimal Roy film is a romance between an upper caste man and an untouchable woman. The Sunil Dutt and Nutan-starrer was awarded the All India Certificate of Merit for the Third Best Feature Film at the National Awards that year.
• Satgati (1981): The Satyajit Ray directed tele-film tells the story of a poor Dalit, played by Om Puri, who turns around the injustices against lower castes in his village. It was based on a short story of the same name by Munshi Premchand.
• Chauranga (2016): Debutant director Bikas Ranjan Mishra's film is based on Dalit-Brahmin relations in an unnamed Indian village. The Sanjay Suri and Tannishtha Chatterjee-starrer made ₹ 9 lakh in box office collections.
• Khap (2011): The Om Puri and Yuvika Chaudhary-starrer was based on a real-life honour killing case in Haryana. The Ajai Sinha directed film made Rs. 16 lakh at the box office.
• India Untouched: Stories of a People Apart (2007):A documentary by Indian filmmaker Stalin K. The film reveals the discrimination and atrocities against Dalits and practice of Untouchability rooted in different parts of India. This documentary has won several awards and gained critical acclaim as well.
There have been several books written as well, one of the landmark book is "The Radical in Ambedkar: Critical Reflections" which came out in 2018. This volume was edited and introduced by Anand Teltumbde and Suraj Yengde.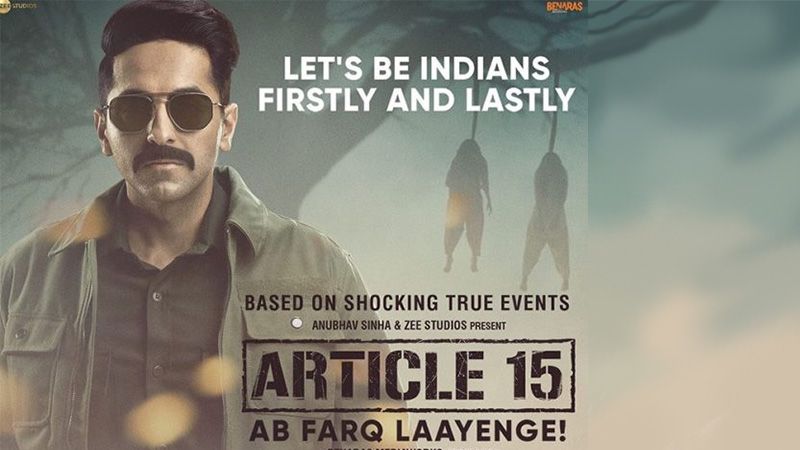 Sufficient buzz has been created around the movie, a lot of people are looking forward to this film. This movie is going to be a word-of-mouth movie. Critical appreciation and audience appraisal will convert to the box office collection. It doesn't have big stars neither does it have any larger-than-life set, nor any dance song it in. But this movie does have a social message and an important one, it is a reminder of our duty as Indian citizens and most importantly, as human beings. As the tag line of the film says "Firstly and lastly, let's be Indians – Dr B.R. Ambedkar".With talented persons like Anubhav Sinha and Ayushmann Khurrana, the content of the movie has been nurtured and presented in a manner which no one else can in the present situation. Therefore, I think we can have a lot of expectations from this movie and they are most likely to be fulfilled. This movie is worth one's time and money and a must- watch. Its' releasing on 28th June, 2019.