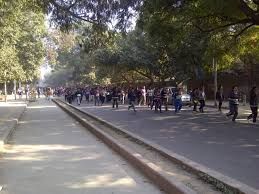 North campus, in the eyes of delhi university and its students always has a reputation overhead as compared to south campus. All the red walled nine colleges, the vibe of studious-cum-amusement place and the peaceful green environment is amazing. I have been a part of this place from last two years and now i can say it as the second home for me. There are 5 benefits of living on-campus.
1. Colleges altogether :This place has nine-highly reputed colleges one after another over years which makes it a prestigious place to live in. A student can never be inactive because they have options to visit other colleges in their spare time. It is easy to stay connected and opportunity to meet talented people everyday. The exposure of living on-campus makes one attentive and interactive.This place is like a hub of talented people where everyone carries a different personality to make their own unique identity. Also, "hey, I am from SRCC" and " I am from Stephens" , is consistent at this prestigious place.
2.Fests: The carnival season from february to march is the most rejoicing time for every student in DU. One of the awaited months of the year,the zeal to attend every college fest can be seen in every student. Some of the most amazing fests are "Crossroads" of SRCC,known for its management of crowd and Mecca, Hindu college for its Star night . Arrangements of passes can be easy if you have contacts. The feeling of attending a concert with your best friends,under the moonlight and your favourite songs makes one refresh and creates a place for adventure. And this is easy in north campus due to short distance between colleges as well as your accomodative place.
3.Accommodation facilities: One can easily locate for accommodation on-campus within their budget. A lot many PG's provide facilities four time meal, laundry and some provide you with washing machies, microwave and wi-fi. You can easily locate for PG's through a broker or yourself or some other friends. A lot of variety is available to you,so make a wise decision. The expenses of travelling in a metro or cab are negligible, which helps lower your ongoing monthly expenses.You can either walk or take a cycle or an e-rickshaw that costs you Rs 10.
4.K Nags: The central attractive place of north campus is the market of kamla nagar or famously known as K Nags. It has been the hot spot for every student,where one can find every brand,plus delicious eateries. How does it sound to you when one says between the classes"chlo kamla chalte hai". You can visit it anytime with your friends and hang-up. The market is famous for jhumkas,shopping and nucleus of north campus. I expect and surely bet you can never get rid off from this amazing focal feature.
5.Leisure Time: Sometimes you just want to spend time with yourself in peace and go for quiet introspection. And some other time you want to enjoy,rock the dance floor or try out new delicious food. North campus provides peace complimentary with fun, where VC lawn is the place where you can read,write and spend time with yourself. While the hudson lane near north campus provides you with endless number of cafes and food stalls, for amazing leisure time with your friends. The evergreen Cafeteria and co,known for its ambience and Big Yellow Door, for its food and service can make your day.
Therefore the heterogeneity of crowd from different places can be settled at a homogeneous place like north campus, a second home for every other student studying in DU. I strongly agree with some attractive places of south campus but the vibe of three years graduation life is incomplete with the tag of north campus.