Ebola was the coronavirus that originated in West Africa in late 2014
STORY OF SARS-Co-2:
(The coronavirus that is causing respiratory illness currently in the world and because of which the whole world has reached a lockdown situation is SARS-Co-V-2):
The novel coronavirus was first identified in Dec, 2019 in China. It initially occurred in a group of people with pneumonia who have been associated with a seafood and live animals market in the city of Wuhan.
HOW IT IS TRANSMITTED?
Coronavirus are zoonotic, meaning they originally pass from animals to humans. But this novel coronavirus name SARS-Co-V-2, can also pass directly among humans.
According to the Centers for Disease Control in the U.S., coronaviruses are most commonly spread by coughing or sneezing; close personal contact, such as shaking hands or, touching an object or surface with the virus on it and then touching your mouth, eyes or nose.
WHAT ARE THE SYMPTOMS?
According to WHO, signs of infection can include respiratory complaints, fever and cough, shortness of breath and breathing difficulties. In more severe cases, infection can cause pneumonia, severe acute respiratory syndrome, kidney failure and even death.
The only way to confirm infection is with a Lab test.
Confirmed cases and deaths by country, territory, or Conveyance:
There are currently 861,295 confirmed cases and 42,387 deaths from the coronavirus COVID-19 outbreak as of April 01 , 2020 , 09:09 GMT. (source: http://www.worldometers.info)
The coronavirus COVID-19 has affecting 203 countries and territories around the world and 2 international conveyances: the Diamond Princess Cruise ship harbored in Yokohama, Japan and the Holland America MS Zaandam Cruise ship.
STATUS OF INDIAN HEALTH CARE SYSTEM:
India's poorest states are also the ones with the weakest capacity to deliver health outcome. In June 2019, the NITI Aayog's ranking of states on health found that "the health outcomes of some states are comparable to that of some upper middle-income countries and high-income countries (for example, Neonatal Mortality Rate in Kerala is similar to that of Brazil or Argentina), while some other states have health outcomes similar to those of the poorest countries in the world (for example, NMR in Odisha is clos India's poorest states are also the ones with the weakest capacity to deliver health outcome.
Bihar has just one government hospital bed for every 1 lakh people, while Goa has 20. Despite an established treatment plan, Uttar Pradesh has a treatment success rate of just 64% for new microbiologically confirmed tuberculosis cases. Just 15% of facilities at Bihar's First Referral Units were functional.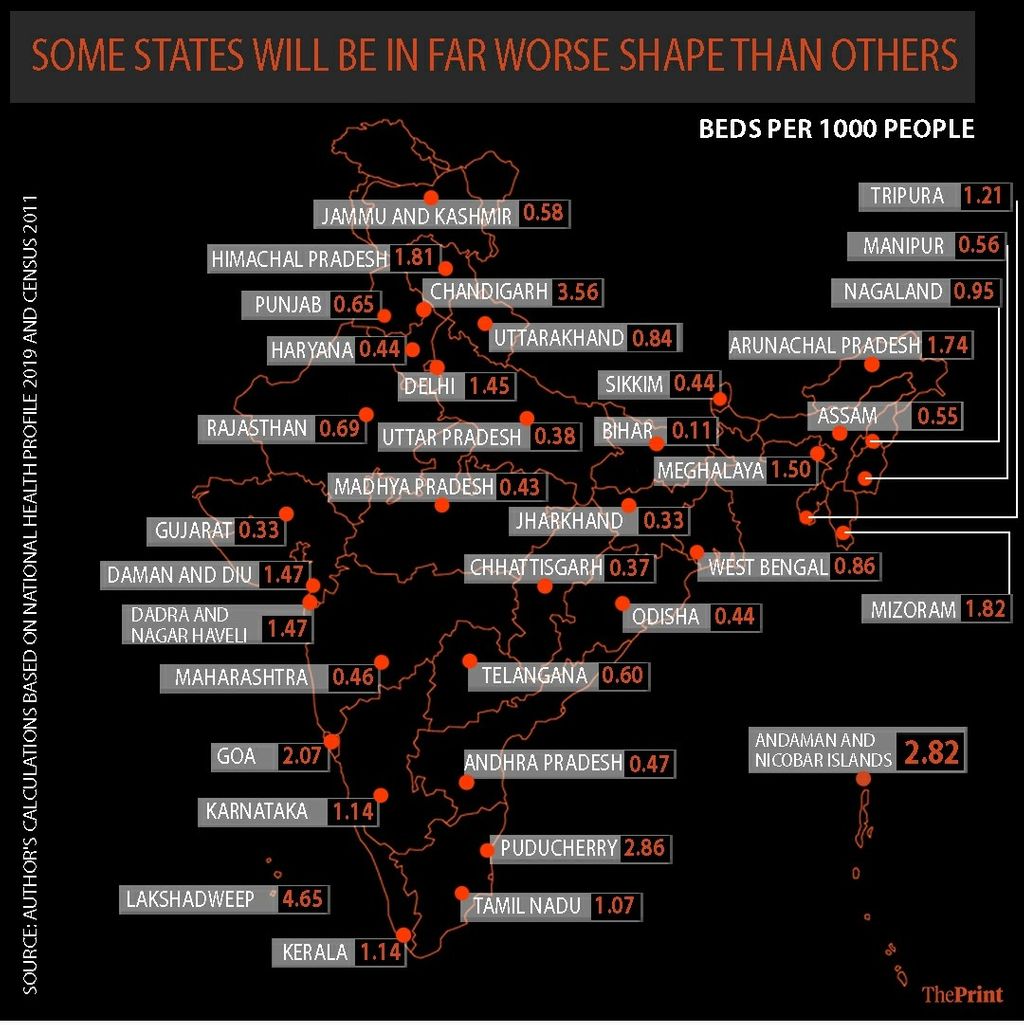 (Graphic by Sohem Sen | ThePrint)
Dr. Ramanan Laxminarayan told The Wire that on the assumption somewhere between four and eight million people could need ICU treatment, India needs to urgently import ICU equipment, ventilators and a range of medicines. He said this has been right at the top of the advice he has given the government.
In India, now is the time to save ourselves and restraint ourselves from illogical actions and act scientifically, as we severely lack resources to control and cope up with situations if things go wrong.