Bollywood in India isn't merely an industry but a religion, here actors are 'Stars' and are preached as sacrosanct deities. Their dialogues are treated as sermons and a style symbol of course from "Mere pass maa hai", "Mogambo khush hua" to "All is well".
Indians are stirred by emotions and Bollywood plays it's manipulating role here as numerous impactful filmy characters leave indelible impressions.
We gauge perfect friendships by the relation of Jay and Veeru, motherhood by Nirupa Roy and a perfect family from the lens of Sooraj Barjatya.
Back in the 90's when India was going through a massive recession Bollywood played a major role in keeping the hopes of people alive and entertaining them with romantic, thriller and adventure movies.
Time swayed and new trends widened with Raj's arms in the air. Romance got a new definition as couples went gaga over Raj and Simran, Prem and Nisha, Anjali and Rahul and of course Raju and Meena.
The transition has been ginormous over the period of time. Not just technologically but also the mind-set of filmmaking has witnessed a change. Earlier films were a perfect land of beauties which was a mere illusion. It was overdramatic, emotional, domestic and rural.
Several older trends have sown some unrealistic and even impractical stereotypes like Punjabis are mostly projected as loud and hard core, Biharis mostly chew tobacco and obey no rules, North eastern Indians are similar to Chinese, Parsis have a particular accent and they say "Dhikra" everytime, also that being South Indian means being Madrasi every time. Now mostly all of it is false as these are mere conceptions and crude observations but these do affect people's judgement!
Today Content is the king. With the world available on a single click people have intellectualised themselves. They consider and bother about sensible issues now. Movies like Chak de India, Taare Zameen Par, Swades, Premrog, OMG!, Damini,etc, have given their maximum contribution for this break through. The audience has started understanding the relevance and authenticity of the movies they are watching and this has finally drawn their attention towards the creepy lyrics of songs which objectify women, advertise materialism and abusive language! People now question issues and they can't be easily fed with anything nonsense anymore.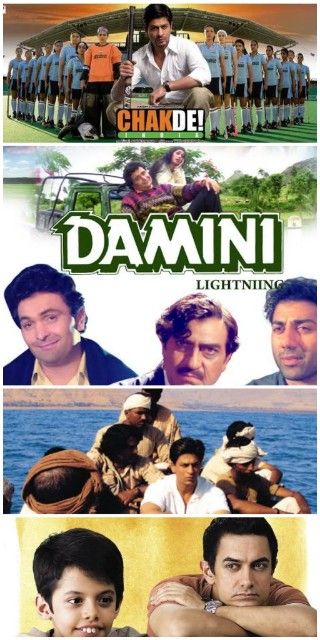 Fashion has got a contemporary and vivacious outlook as it's more about the feeling and confidence actors wear. Actors justify this by opting for movies like Chhapaak, Dangal, Sarbjit, Saand ki Aankh, etc, and the audience reflects back the same.
It's high time and filmmakers are now projecting taboos because if these issues aren't spoken about now, it would create an imbalance in the society. Now more than a superstar actor, sensible content rules onscreen. Padman focused on menstrual hygiene,Shubh Mangal Saawdhaan on impotency, Pink on women right and feminism, Toilet: Ek Prem Katha on open defecation, Vicky Donor on sperm donation, Mardani on human trafficking, Peepli Live on farmer's suicide,. And this list continues.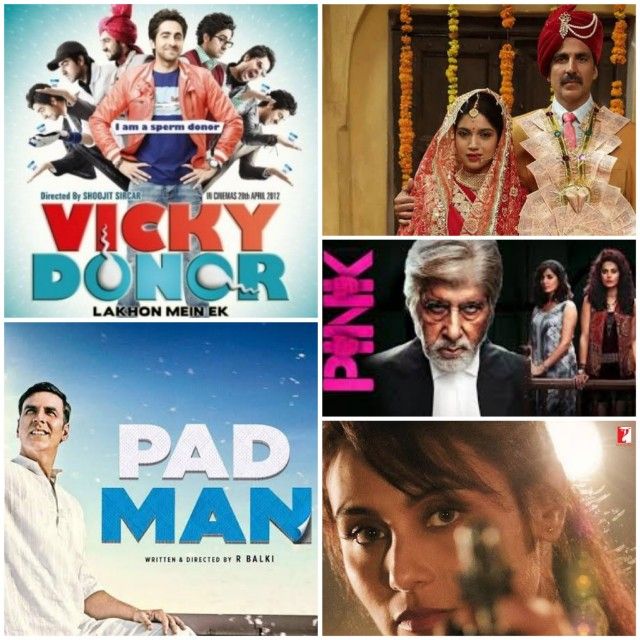 If one focusses on thin-skinned issue, this automatically helps others to dare and pick several other sensitive topics. In it's primitive stage India had suffered a lot, both physically and emotionally and this has left some painful bruises over the society which demand recognition. Several Biopics are made these days to recognise the exceptional efforts of real heroes of the society.
A lot is there to be said!
Bollywood plays a great role in moulding the perception regarding various issues. If we talk about the recent #Metoo Movement which brought a big wave of change along, then we are able to mark the difference.
This is just the start. With reality getting more transparent, Bollywood is tending towards cleanliness in it's functioning. It's a two way road with filmmakers and audience desiring to develop together.
Let's do our bit.