INSTAGRAM
Increase InstagramFollowers- Hey Friends, today we gotta discuss on one of the fastest growing and leading social media platform, any guesses?? Yes, guys, it's the day for the"INSTAGRAM", being started on6 October 2010byKevin Systromas an app for picture sharing, it has now achieved huge success and still getting more and more popular. Nowadays Instagram has got more features than just pics sharing and has grown as a platform used for marketing and business.
Today, after reading this article you will get to know how to grow your Instagram account and use it as a marketing and promotion tool for your website.Moreover, we will brieflylook at the latest updates on Instagram.
WAYS TO BOOST YOUR INSTAGRAM FOLLOWERS AND LIKES:
1). USE CREATIVEHASHTAG:
Guys, you should drop the old way of describing your post in caption instead try mixing it with using some creative and famous hashtags. For every post put some hashtags and just get rid of boring ideas.
But where will you find the hashtags? Simple just download apps likeLeetags, IG Followers Hashtags etc.
Having some hashtag for your company is just not enough you have to make it popular so that people can know about it. that's why the promotion of your hashtags is necessary you should promote your hashtags where ever you go in the on radio, TV, ads, campaigns etc
3). GET DESCRIPTIVE WITH YOUR CAPTIONS:
A picture is never a post, a post is something which has got proper tags, hashtagsand very important a proper description in captions. Many times people try to find out something in the caption and if remain unanswered they won't trust you. So, a good descriptive caption is a must.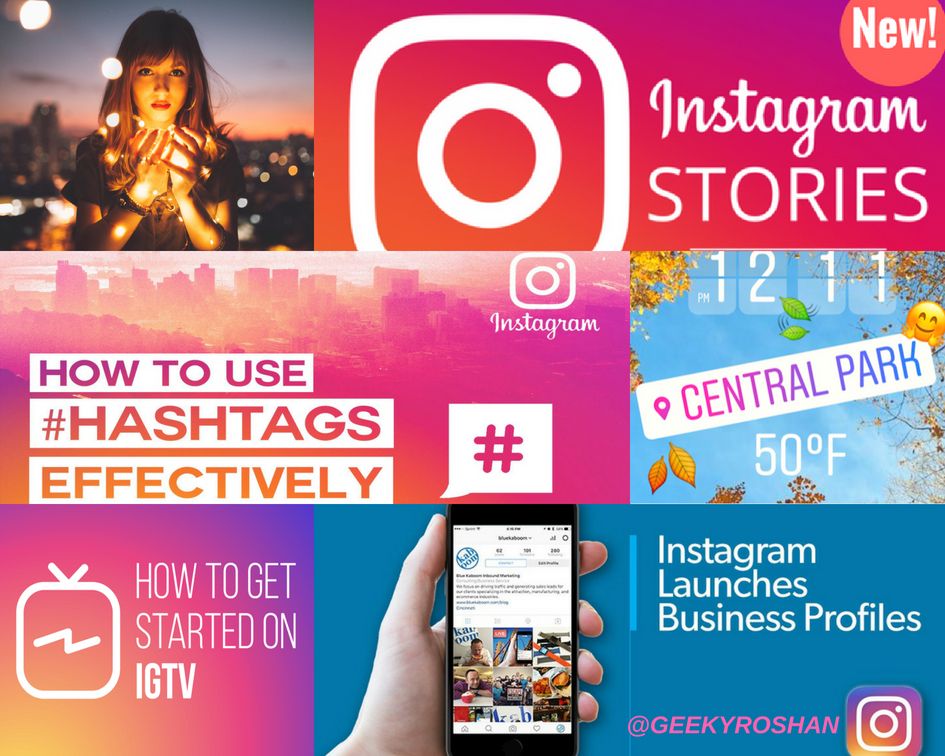 4). TRY INFLUENCER MARKETING:
The way Instagram works, it figures out who you're associated with, and it shows your posts to their network and vice versa. If you are connected withsome Instagram star with a big followinglist, then it's promotion, likes and comments can bring a flood of followers for you.
5). DEVELOP YOUR OWN INSTAGRAM STYLE:
Bro, If you wanna be heard and followed you have to be unique in your own way. Adopt your own Instagram Style, be creative with it so that a trustworthy relation can be established between you and the people.
6). POST FREQUENTLY.
7). REPOSTOTHER'S CONTENT:
You can repost some creative and hot content others on your account but nowadays you need to have permission from the owner account. it's a very popular way to gain followers as if you will repost some hot and trendy content on your account then people will surely admire this and you can get likes comments and followers so exponentially that you have not imagined this before.
8). INSTAGRAM BUSINESS PROFILE:
With the new tools, companies of any size can be recognized with a business profile on Instagram get insights about followers and posts and promote the post to drive business objectives. Your personal information like contact details can be put on your account so that visitors can see them also you can track the customers in a better way if you use a business profile.
9). TRY INSTAGRAM STORY HIGHLIGHTS AND TV:
Guys these are new tools on Instagram, you can regularly update what's new and trending events of your life on your stories. Use Instagram TV to put videos, people love to try new things and if you'll keep your account updated then people will surely admire you.
10). MAKE THE BEST OUT OF YOUR INSTAGRAM BIO:
Friends your Bio is your real estate on your Instagram account so you have to use it judiciously to get the mostout of it. For personal use, you can set it in any manner, whatever suits you but if you want to use it for your blog or website you'll have to be a bit careful.
Only write genuine and important content in it. Try to be brief and use the link in the bio not only for your blog or website's homepage instead update it regularly with what is trending on your website.
11). USE LOCATION ON YOUR INSTASTORIES AND POST TO GET LOCAL:
Guys, adding location to the posts and stories you share can bring the local attraction to your follower's list. This is alsoa new feature on Instagram it not only clarifies your posts but also makes them look genuine..
12). JOIN INSTAGRAM ENGAGEMENT GROUP
Friends basically Instagram engagement groups are the groups formed on Telegram that helps Instagram users to have a better reach and approach. In simple words, a wad of Instagrammers that come together to give each other likes and comments.
But there are also certain conditions, for example, some groups are only for likes, some only for comments, test for both. Moreover, you can't join any group as there are restrictions on the basis of followers you have. One should find groups as per their best interests and then you will definitely get followers who share the same interests.
13). TAGS RELATED PERSONS TO YOUR POSTS:
Tagging is one of the best aspectsof any social media network, as it let the other users know about you. On Instagramalso, I will personally suggestyou that you should "Tag" the related persons and let the other guys tag you as people will come to know about you and may join you.
14). POST ENGAGINGCONTENT:
Buddy, if you are new to Instagram or just had started a blog or something like that,then honestly speaking this tactic is going to worth a lot. Engaging content is something that pricks the visitor to come again and again and finally,it'll bring followers in huge no.
As engaging content, you can post facts, riddles, comics, articles and much more.
Finally, friends, that's all from my side. I hope it will help you.
And I will be glad to see your reactions and queries, so do drop them below.
See you soon. Till then Tada...