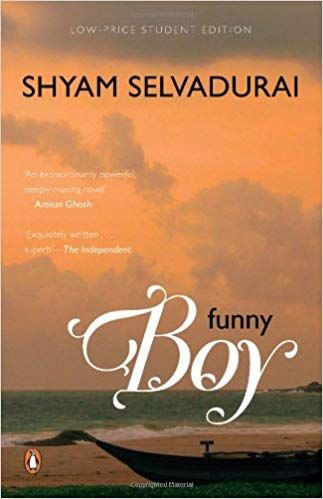 Book: Funny Boy
Author: Shyam Selvadurai.
Genre: Historical fiction
This is the book of my course and I love it not only because I have to read it but genuinely it captures themes like love, sexual identity and political tensions. The weaving string of homosexuality and politic crisis in the city affects the life of protagonist named Arjie. The author prsents to readers a vivid scenery of ethnic and social contrast between Sri lanka and Tamil nadu with tumultuous realization of Arjie's homosexuality to himself.
The roots of 1980's between the two helps Arjie in understanding himself as a sexual other and an ethnic other. The book begins with a beautiful background and description of every family member, where the territory between the girls and the boys is clearly visible. Usually children have to follow a certain set of rules framed by the family members to make their space in the society. For example the colour pink is usually asociated with girls and bike rides for boys. Similary the author in the book describes the game of bride-bride played in the back territory of the house but with Arjie as the main character in the game. Soon, when the family members become familiar of Arjie's role, they make mountain out of a mole. Every society does that when a person starts to differentiate themselves on a track to defy the layout of societal norms.
The picture shifts to political crisis between Tamilians(minority group) and Sinhalas (forming the majority)desrcribed through the love story of Radha and Anil, the other characters in the book. Aunty Radha falls in love with this Sinhalese man but their love cannot climb the ladder of success because of the ethnic tensions revolving around in the country. Arjie is a young boy of seven and now becomes aware of himself and his family as ethnic other. His opinion is altered about romanticized weddings through violence and tensions around him. Every love story does not start ending up happily togeher but some are affected by societal norms and conditions.
Soon Arjie is reluctantly sent to new school by his father to become man but there he meets a boy named Shehan. Their friendship takes an another turn when an instant sexual encounter between the two makes Arjie aware of his homosexuality. The realisation of being a sexual other upsets him and give other thoughts about his family . Homosexuality is a tabu, not accepted in India. Something out of the box, leaving no space to live and breathe.
On his encounter with these incidents, Arjie shifts to Canada when he becomes aware that he is a person unwanted in society. The indulgence in the game made him lonely where he is caught trying to fight the social boundaries of girls and boys world, but not belonging to either of them. He was no longer a part of his family in the same way .He was now inhabited into world they didnt umderstand and into which they could not follow him.