A salad is a dish consisting of a mixture of small pieces of food, usually vegetables. However, different varieties of salad may contain virtually any type of ready-to-eat food. Salads are typically served at room temperature or chilled.
If you are planning to get something healthy in your diet, this article is just what you need right now.
Here we go!
1. Waldorf Salad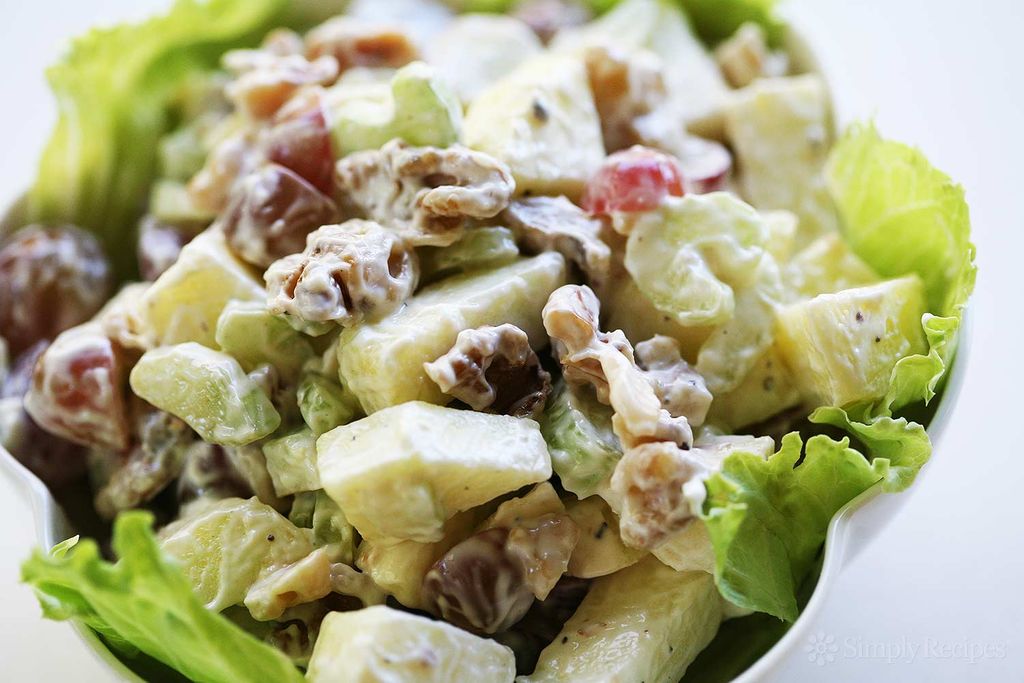 A Waldorf salad is a fruit and nut salad generally made of fresh apples, celery, grapes and walnuts, dressed in mayonnaise, and served on a bed of lettuce as an appetizer or a light meal.
2. Coleslaw Salad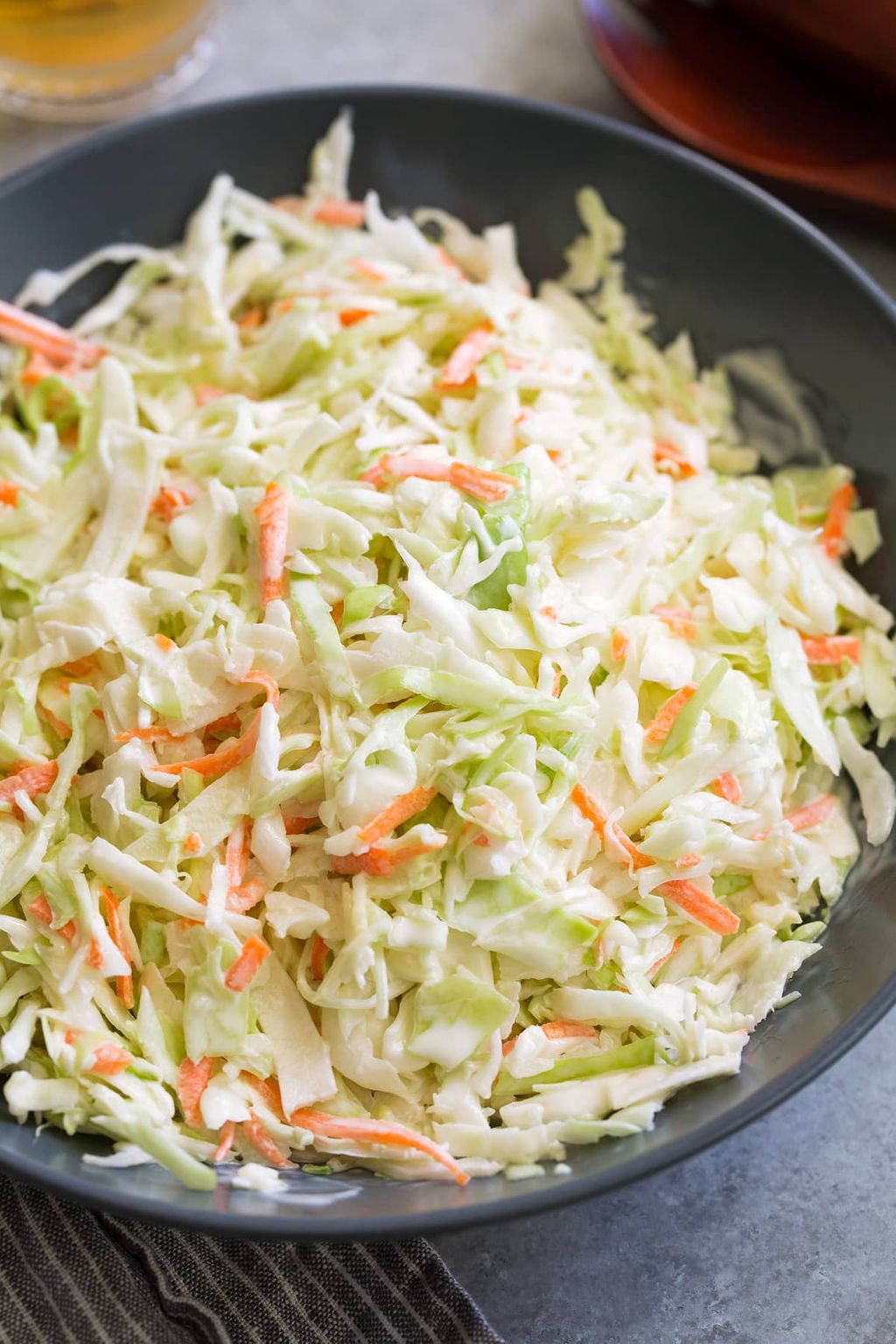 Coleslaw, also known as Cole slaw or Slaw, is a salad consisting primarily of finely-shredded raw cabbage with a salad dressing, commonly either vinaigrette or mayonnaise. Coleslaw prepared with vinaigrette may benefit from the long lifespan granted by pickling.
3. Cobb Salad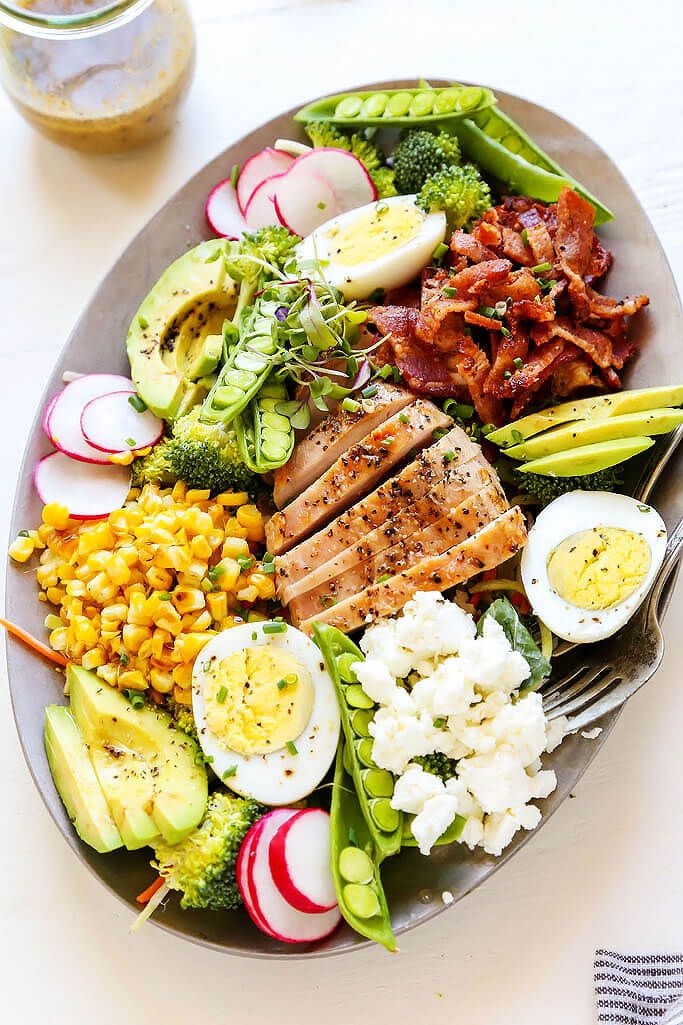 The Cobb salad is a main-dish American garden salad typically made with chopped salad greens, tomato, crisp bacon, boiled, grilled or roasted chicken breast, hard-boiled eggs, avocado, chives, Roquefort cheese, and red-wine vinaigrette.
4. Gado-Gado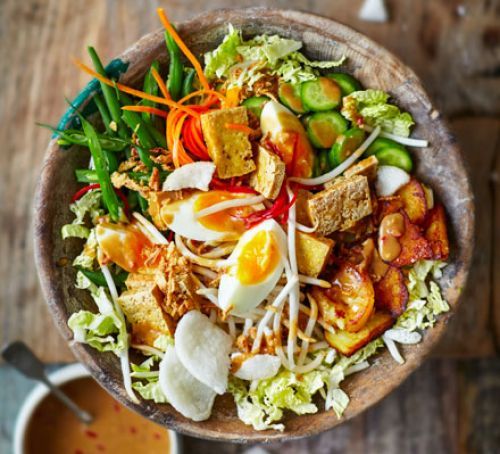 Gado-Gado, also known as Lotek, is an Indonesian salad of slightly boiled, blanched or steamed vegetables and hard-boiled eggs, boiled potato, fried tofu and tempeh, and lontong, served with a peanut sauce dressing.
5. Kachumber Salad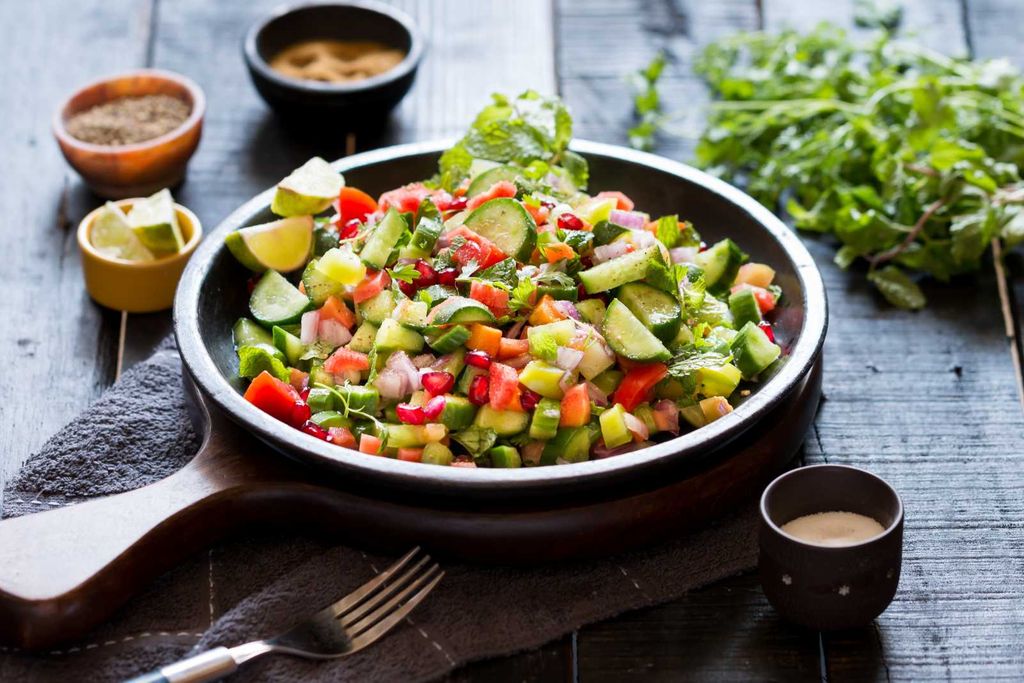 Kachumber, or Cachumber, is a salad dish in Indian cuisine consisting of fresh chopped tomatoes, cucumbers, onions, lemon juice, and sometimes, chili peppers.
6. Larb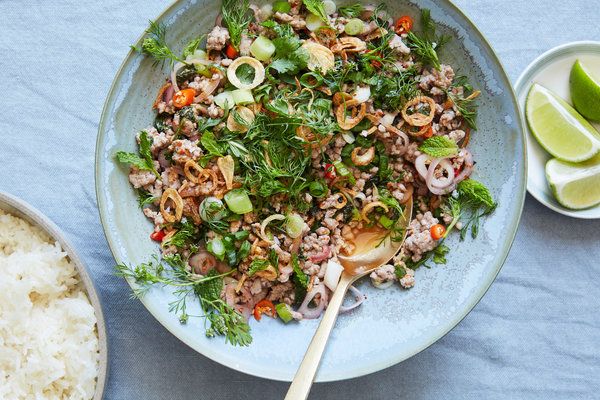 Larb is a type of Lao meat salad that is regarded as the "unofficial" national dish of Laos. It is also eaten in the Isan region, an area of Thailand where the majority of the population is of the Lao ethnicity.
7. Tabbouleh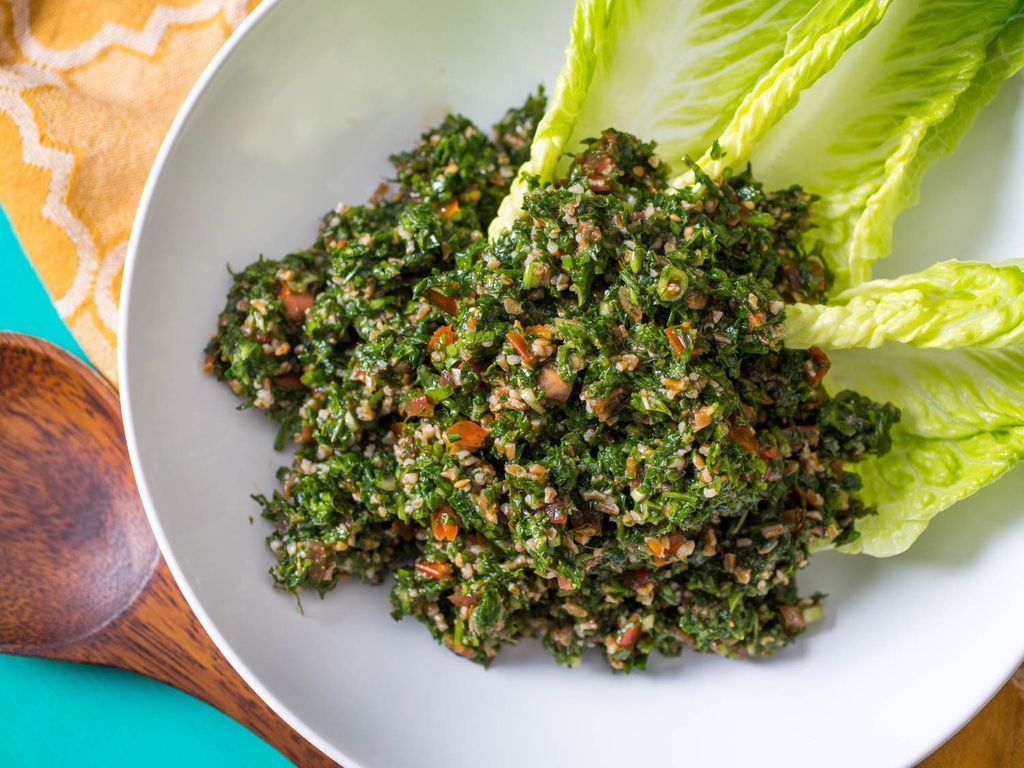 Tabbouleh is a Levantine vegetarian salad made mostly of finely chopped parsley, with tomatoes, mint, onion, bulgur, and seasoned with olive oil, lemon juice, salt and pepper. Some variations add garlic or lettuce, or use couscous instead of bulgur.
8. Fiambre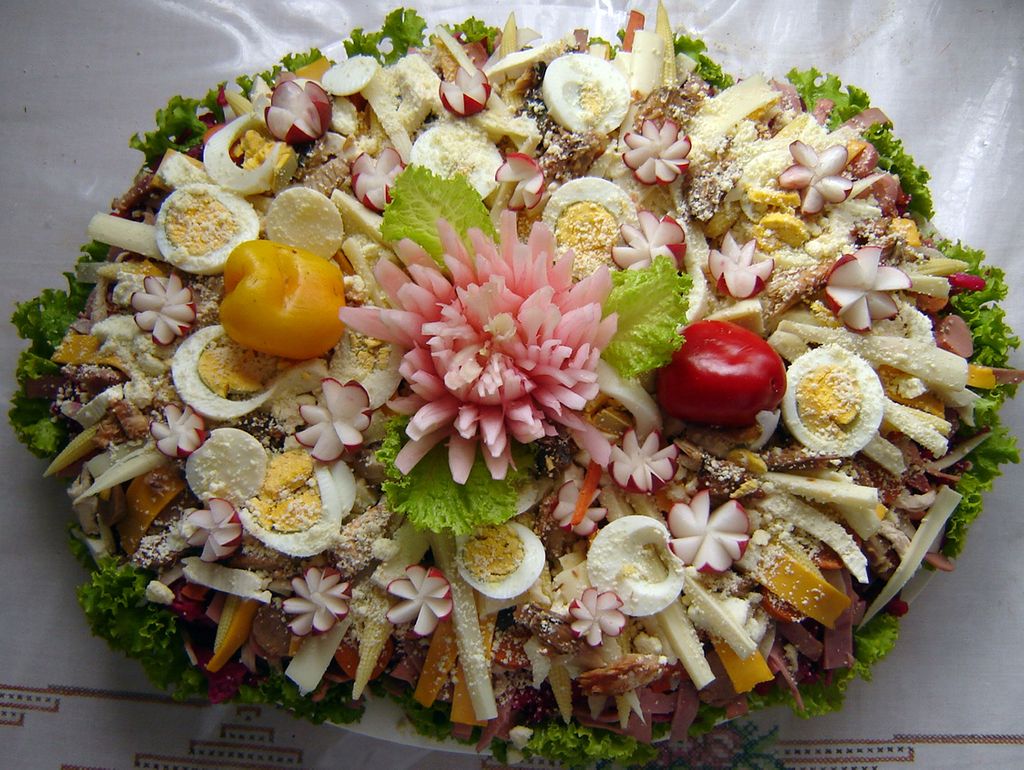 Fiambre is a traditional Guatemalan salad that is prepared and eaten yearly to celebrate the Day of the Dead and the All Saints Day. It is served chilled and may be made with dozens of ingredients.
9. Caesar Salad

A Caesar salad is a green salad of Romaine lettuce and croutons dressed with lemon juice, olive oil, egg, Worcestershire sauce, anchovies, garlic, Dijon mustard, Parmesan cheese, and black pepper. In its original form, this salad was prepared and served tableside.
10. Bean Salad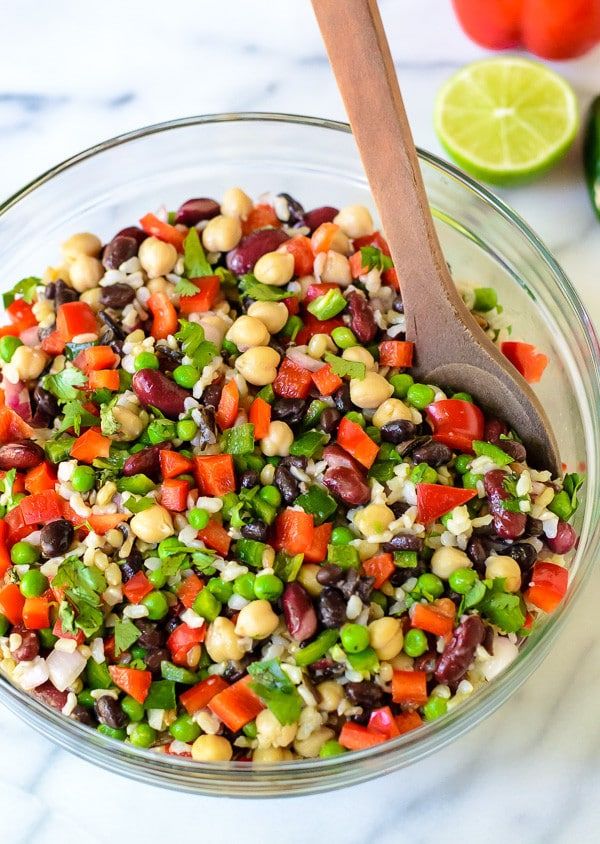 Bean salad is a common cold salad composed of various cooked beans – green beans, yellow wax beans, garbanzo beans, kidney beans – and typically fresh raw onions, peppers, and/or other vegetables, tossed in a vinaigrette or vinegar and characteristically sweetened with sugar. It can also be prepared as a pickled dish.
Try these at home without the fear of losing that summer body!
Happy munching!