Pros and cons of constitutional emergency
Black law's dictionary defines emergency "as a failure of social system to deliver reasonable conditions of life". The term emergency may be defined as "circumstances arising suddenly that calls for immediate action by the public authorities under the powers especially granted to them".. Dr. B.R Ambedkar claimed that the Indian Federation was unique as during the times of emergency it could convert itself into an entirely unitary system.
Now in India we have 3 different kinds of emergencies. They are:
✓National emergency
✓State emergency
✓Financial emergency
Here article 352 deals with proclamation of emergency. Article 356 deals with provisions in case of failure of constitutional machinery in States and article 358 with suspension of provisions of article 19 during emergency. This is the subject matter deferred in this article.
Since emergency being a huge term as it affects an entire state or nation as proclamation maybe, it is very important to know what causes an emergency and what are the pros and cons of an emergency in a diverse-land like India.
Astate of emergencyinIndiarefers to a period of governance under an alteredconstitutionalsetup that can be proclaimed by thePresident, when he/she perceives grave threats to the nation from internal and external sources or fromfinancial situations of crisis. National emergency can be declared on the basis of external aggression or armed rebellion in the whole ofIndiaor a part of its territory under Article 352. Such an emergency was declared in India in 1962 (China war), 1971 (Pakistan war), and 1975 (declared byIndira Gandhi).A state of emergency can be declared in any state of India (exceptJ&K) under article 356 on the recommendation of the governor of the state. If the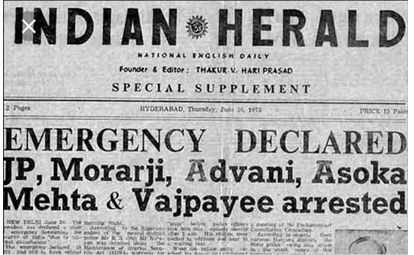 President is satisfied that there is an economic situation in which the financial stability or credit of India is threatened, he or shecan declare financial emergency. Such an emergency must be approved by the Parliament within two months. It has never been declared.
Emergency has it's own pros and cons which are:
PROS/ADVANTAGES:
The proclamation of emergency in India for 3 times had it's own aftermaths. It brought about a change in various systems of the government. The emergencies strengthened the rule of government. It was necessary because of the pertaining increasing circumstances of external aggression. Later it was extended by then Prime minister Indira Gandhi on the note of political instability. Emergency proved to be helpfulbecause the state governments weren't cooperating and thus there was negligence of law. It helped in better imposition of rules and regulations. It also contributed in preventing people from resorting to unlawful means of consideration. The Indo China war and Indo Pakistan war threatened the security of India. Due to emergency issued the president's rule was established and thus it offered chances for better governance. Country was secured and all kinds of revolts were controlled with the help of emergency in force. It gave the concerned authorities a chance to rectify their mistakes as well and to promote peace in the nation.
CONS/DISADVANTAGES:
Emergency while adopted for benefits of our country it is disadvantageous because the system of governance gets disturbed. When emergency was passed in India and when Indira Gandhi extended it, it was said to be done for her own political beneficiaries. It further led to riots and no confidence amidst the people of India. There was also no major decision making procedure and it gave rise to inter party disputes. Many named it to be black politics. For their own benefits the authorities neglected people's choices and also the opposition couldn't help people's case. Rivalry arouse and misuse of power began to grow constantly. The Sikh riots are considered to be a cause of this emergency and still people are reaching out towards courts for justice. There was a certain loss of trust for the government and fixes were created on spots thereby.
The terms needs to be well defined so as to maintain the dignity of the provision and to ensure that the drawbacks of the President's rule are tackled along with the changes that could come with the amendment.