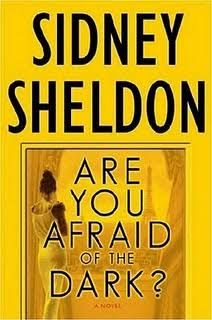 Author: Sidney Sheldon
Genre: Sci-Fi thriller
This was my first book that I read from the most prominent author Sidney Sheldon. On that contrary, some people have given out their opinion about this book being amateurish, having predictable plot scenes and the only thing carrying the plot is none other than the author himself. To be honest,I found this book to be having much less calibre than some of his other works ('after reading if tomorrow comes and windmills of the Gods'). At first, I was quite astounded by this book's imperceptible ways of being a page turner. This book kindled my interests into the habit of reading Novels. Obviously, everyone knows that his books are indeed page turners. But this book could have been made as a movie; I wonder why that didn't happen. When I finished this book, I came to know that the title had nothing to do with the story. I could hear your mind voices saying "Don't beat around the bush, just finish with the review for God's sake". Let's delve into the plot.
Plot Summary:
Two gorgeous women go up against a nefarious multinational think tank in this airbrushed, but goofily entertaining thriller by perennial bestseller Sheldon (The Sky Is Falling ; Tell Me Your Dreams ; etc.). Four scientists working for the New York–based Kingsley International Group have died or disappeared within 24 hours. Wolfish top boss Tanner Kingsley vows to find the perpetrator; meanwhile, artist Diane Stevens and Kelly Harris who are the wives of the former dead husbands resort to Tanner Kingsley (who would have thought) to solve the mystery behind those murders. Diane and Kelly form an uneasy alliance, though both spend most of their time ruminating on their wonderful (now dead) husbands (passionate things. Don't get kinkier).
Let me water down the plot: people are getting killed, women are in peril and an evil CEO (Tanner, gasp!) made an unconvincing plot to take over the world. His technique involves controlling the weather, and in an intriguing short afterword, Sheldon explains the very real possibilities of just such a scenario. Over the withered journey, Kelly and Diane escape every assassination attempt with ridiculous ease, and other characters appear and disappear simply in order to get the author out of one plot pickle after another. Still, despite Sheldon's blithe unconcern for logic and his just-add-water relationships, this is a breezily pleasing read.
Is it a good read?
Yes (kind of, depends). If you are a science fiction lover, you would hate to see some underwhelming logic stuffs being taken as granted by the author. Otherwise, just grasp what the author says and run along with him. This is a pretty much interesting novel with significant pop culture references and Bank heists. If you love fast paced novels that have some pretty astounding ending then this thing would surprise you with flamboyant action packed things that will hold your attention to meticulous details. Buckle up for the journey.
Have a happy reading!
Rating: 3 stars