There are many tourist places in Goa worth visiting. From the beaches in Goa, to the national parks and hills, churches, forts, markets, and the backwaters, you will find virtually everything in this small Indian state. In fact, there are so many choices that it may be difficult to see them all in one visit if you don't have a list to guide you. So here's a list of the must-see places in Goa that you should definitely include in your tour planning.
Many of the tourist places in Goa are famous landmarks, UNESCO World Heritage sites, beautiful churches, interesting local markets, and old Portuguese structures. Then there are the top beaches, water sports, and many natural attractions that you do not want to miss.
#1 – AGONDA BEACH.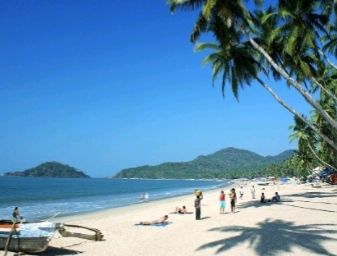 Agonda beach in South Goa is a must visit. 39.2 kilometers from Margao, this is an isolated stretch of sand lined by palm groves. It is a very quiet, peaceful, and picturesque beach with few tourists. There is a turtle center in the north, and rocky outcrops in the south. Developed tourist infrastructure! You will find many shops, cafes, beach shacks, bars, restaurants, yoga centers and massage parlors. But you will still get a less "touristic feel" here.
Agonda has been ranked as "Asia's #1 beach for 2018" according to the TripAdvisor Travelers' Choice® awards. It was ranked Asia's 4th best beach in 2016 as well.
#2 – FORT AGUADA.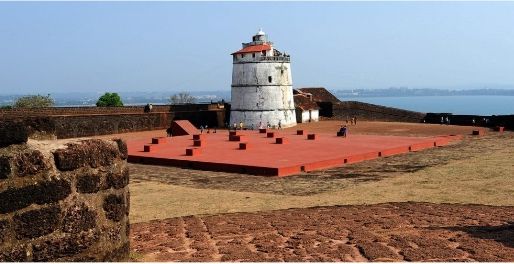 Fort Aguada is an old 17th century Portuguese fort in north Goa. It is at the confluence of the Mandovi River and the Arabian Sea on top of a hill. The Portuguese constructed this fort as a defense against the Marathas and the Dutch. There is a deep dry moat here and a 13 meter high lighthouse, which was constructed in 1864. Many buildings within the fort are still in very good condition. From Aguada, you can get awesome views of the shoreline, the Arabian Sea, Mandovi River, and even the city of Panaji, which is on the other side of the river.
#3 – DUDHSAGAR FALLS.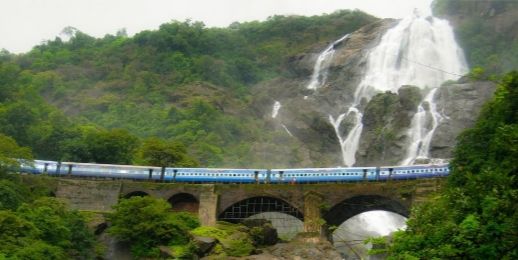 Witness the fury of nature, in what is one of India's tallest and most powerful waterfalls. Dudhsagar Falls is 47 kilometers from Margao by the MDR52. It is located on the Goa-Karnataka border. Dudhsagar Falls looks most impressive in the monsoon when there is a lot of water.
It cascades down for 1017 feet from a steep mountain face. You can view the falls from a train journey to and from Margao, or you can trek to the base of the falls. You have to trek through the Bhagwan Mahaveer Sanctuary and Mollem National Park. There are many viewpoints along the way.
#4 – BAGA BEACH.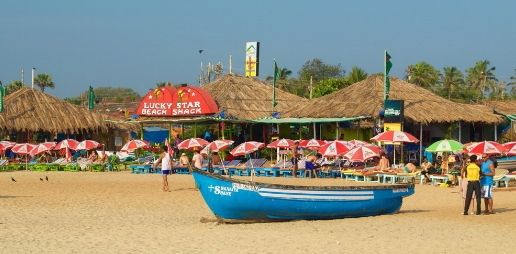 Baga beach in North Goa is one of Goa's most popular beaches. The Baga River is in the north. Calangute beach, also popular, is in the south. The Baga-Calangute stretch is one of the longest sandy shores in Goa. You will find many beach shacks, pubs, restaurants, shops, nightclubs and water sports activities, including banana riding, speed boats, paddle boarding, paragliding, surf boarding, and more. Britto's at the northern end of the beach is a famous shack. Club Tito's and Cafe Mambo are two famous Goa nightclubs, both in Baga.
#5 – ANJUNA WEDNESDAY MARKET.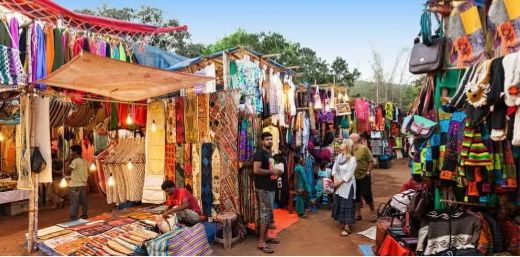 Started by hippies in the 1960s, the Anjuna flea market is a landmark in Goa. It is at the southern end of the Anjuna beach. The Anjuna flea market is open on Wednesdays between 9 AM and 6 PM. There are more than 500 stalls selling handicrafts, handmade jewelry, Kashmiri and Tibetan goods, bags, clothing, tribal artifacts, and more. There are food stalls, bands playing jazz and rock music.
#6 -- NAVAL AVIATION MUSEUM.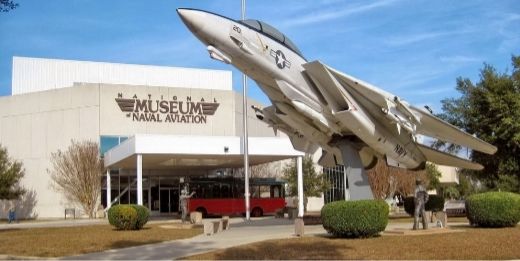 The Naval Aviation Museum is at Dabolim in Vasco da Gama, just behind the international airport. This is the only Naval Aviation Museum in India and unique in Asia. There is both an indoor and outdoor section with exhibits that include bombs, rockets, aircrafts, parachutes, protective gears, armaments, outfits of pilots and much more.