"Where are you?"
"Just five minutes away"
How many of us have said this to our friends when in reality, we haven't even left our house.
Catching up with friends in the evening and reminiscing over the good old days not only make us nostalgic but very emotional.
Arguing over where to go and eat food used to be the reason for our fights.
From deciding which restaurant to eat at, to crying over who will pay how much for the bill, it is a crazy time whenever they are around.
My favourite memory with friends has to be us enjoying each and every festival with each other.
From Holi, when around 20 of my friends show up at my society and most of them being boys, giving my orthodox south Indian parents a shock. We play, we enjoy and then they hog all the food without paying!
Then during Eid, we all attack our friend's kitchen to steal the biryani. And finally on Ganpati when we try to pretend to be the innocent kids in front of our friend's parents and eat all the modaks.
My friends cannot play Garba even if their life depended on it, so let's not even attempt to explain that.
From having lassi to bhaang, we have had the craziest memories these past years.
Now let's talk about the college friends without whom chilling at tapri, bunking lectures and attending college fests would not be possible.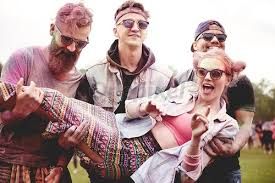 Since these people are the ones we spend most of our time with, I have had bizarre incidents with them too.
Going to McDonalds at 7AM for breakfast and hating the food to eating Subway for lunch continuously for a week, they made sure my stomach killed me.
Whoever said that life is very relaxing after HSC and college life is chill, was a liar.
So my friends turn into teachers overnight to help me study for our exams because none of us attended lectures or we slept during most of them.
From giving proxy's in class to make their parent your parent during parent-teacher meetings, they are our lifesavers.
My senior recently told me that college life will go by so fast that I will not even realise it until I am having my convocation. She told me to make the best memories and try every stupid thing so that when I am older, I don't regret not having these memories to cherish.
Your career, studies, goals and everything is very important and should be given priority, but while trying to achieve these, don't forget to actually live your life and have these experiences because life is too short if you have such crazy friends with you.
Yours truly,
That friend who is always late.