Ever had a lot of work to do but kept putting it off till the last minute? That is how pretty much every person works nowadays.
Nobody likes to make an assignment or complete the project you know you are going to eventually copy from others.
Procrastination is the worst. It makes you lazy and very unproductive. It's what you happens when you have to do things you find boring or when you feel lazy and put things for later.
Putting off work and delaying your responsibilities will make it super stressful for you.
Some tips to try and avoid procrastination:
1.Prioritise your work and make sure you complete all the urgent ones.
2.Try to do the task you like least so that you have fewer chances of putting that off till the end.
3.Keep your phone in another room when working so that you do not get distracted.
4.Make a to-do list and keep checking it to make sure you haven't forgotten anything.
5.Think about the benefits of finishing that particular task and that will motivate you to actually complete it.
6.Allot a specific time period for each activity so that you do not spend your entire day trying to finish one task.
7.Do not over-complicate things and don't get pressurised to finish work.
8.Make sure you balance your tasks and do both the tasks you enjoy and dislike in proper proportions.
9.Set weekly goals and try to achieve them.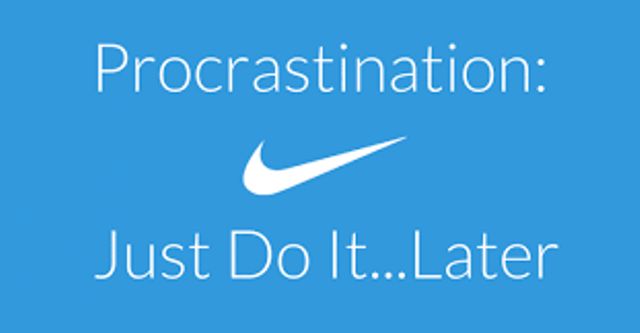 As fun as sitting at home watching Netflix sounds, that is not the real life. Make sure you finish all your work, be productive and still make time to relax and do the things you enjoy.
Prioritising your tasks will not only make it easier for you to work, it will also help you complete everything on time and not leave any important task unattended.
It's harmful when you delay things like paying electricity bills, getting groceries or you will end up eating maggi in a darkroom.
Completing your work is so satisfying and you feel really content about how productive you have been.
Timing your work has been found to be the most useful.
All this sounds very adult-like and boring, but it is a step towards your own progress. Growing up is so much fun :)
Take small breaks regularly but make sure they are not for five-six hours where you binge watch three movies on Netflix (that is usually how my breaks are)
Yours truly,
Procrastination Master.