Germany is known for the delicious desserts. It is tough to choose one because everywhere you turn, there are just so many tantalizingoptions! You could spend your entire visit to Germany just eating dessert!
Here are 8 desserts from Germany, you should know about, if you have a sweet tooth!
1. Bienenstich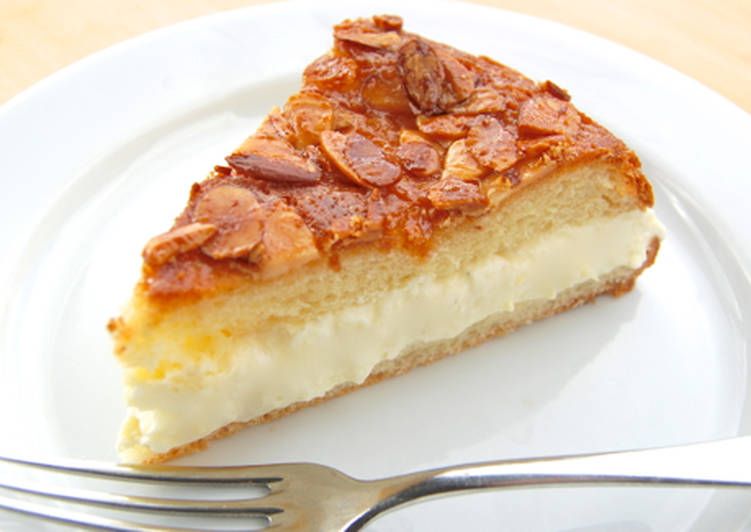 Bienenstich or Bee sting cake is a German dessert made of a sweet yeast dough with a baked-on topping of caramelized almonds and filled with a vanilla custard, Buttercream or cream.
2. Rote Grütze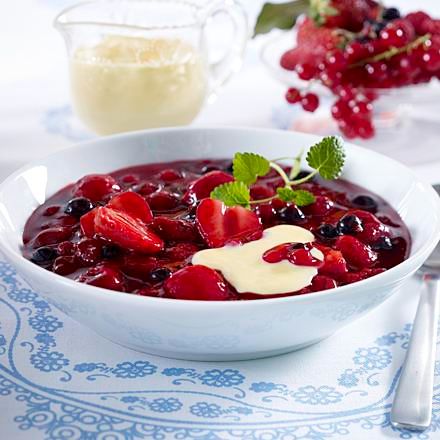 Rødgrød, Rote Grütze, or Rode Grütt, meaning "red groats", is a sweet fruit dish from Denmark and Northern Germany. It is a warm pudding made from raspberries, strawberries, blueberries, blackberries, cherries and red currants, and then topped with cold fresh cream, vanilla sauce or ice cream.
3. Schwarzwälder Kirschtorte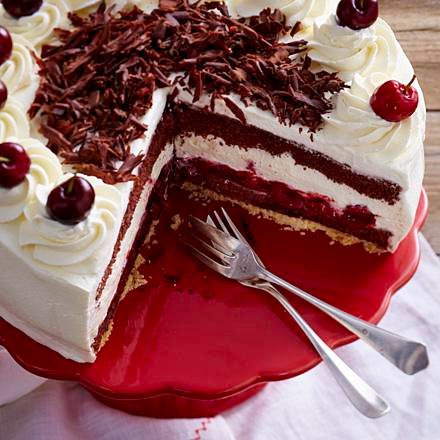 Also known as Black Forest gâteau or Black Forest cake, it is a chocolate sponge cake with a rich cherry filling. German dessert Schwarzwälder Kirschtorte, literally means "Black Forest Cherry-torte". Typically, Black Forest gateau consists of several layers of chocolate sponge cake sandwiched with whipped cream and cherries.
4. Käsekuchen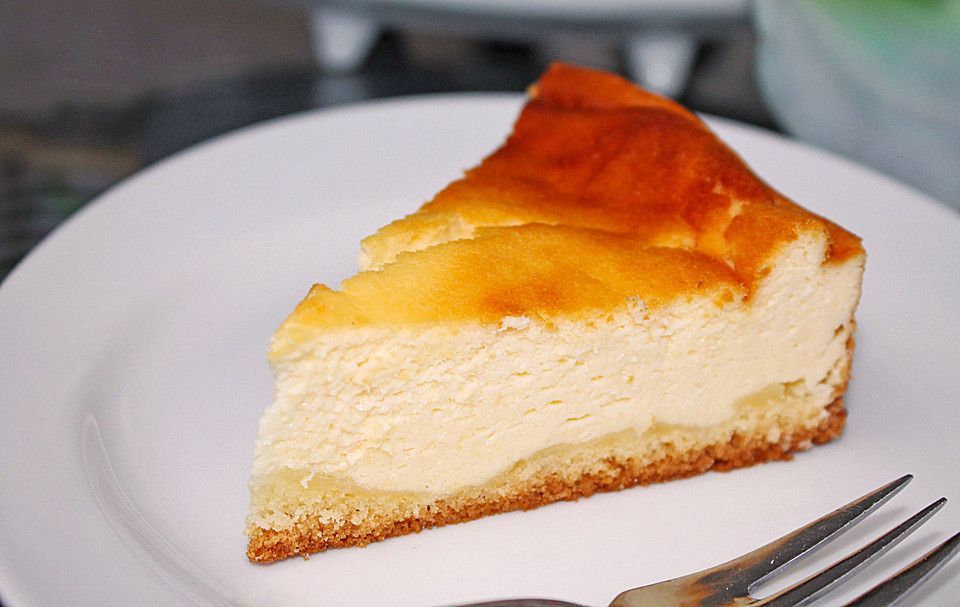 This cheesecake is a sweet dessert consisting of one or more layers. The main, and the thickest layer, consists of a mixture of soft, fresh cheese, eggs, and sugar. If there is a bottom layer, it often consists of a crust or base made from crushed cookies, graham crackers, pastry, or sometimes sponge cake.
5. Dampfnudeln mit Vanillesauce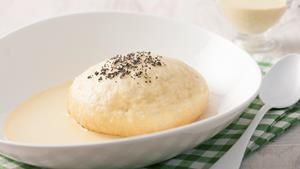 German dumplings made with yeast are a great traditional German recipe, served with sweetened fruit compote and vanilla sauce.
6. Spaghettieis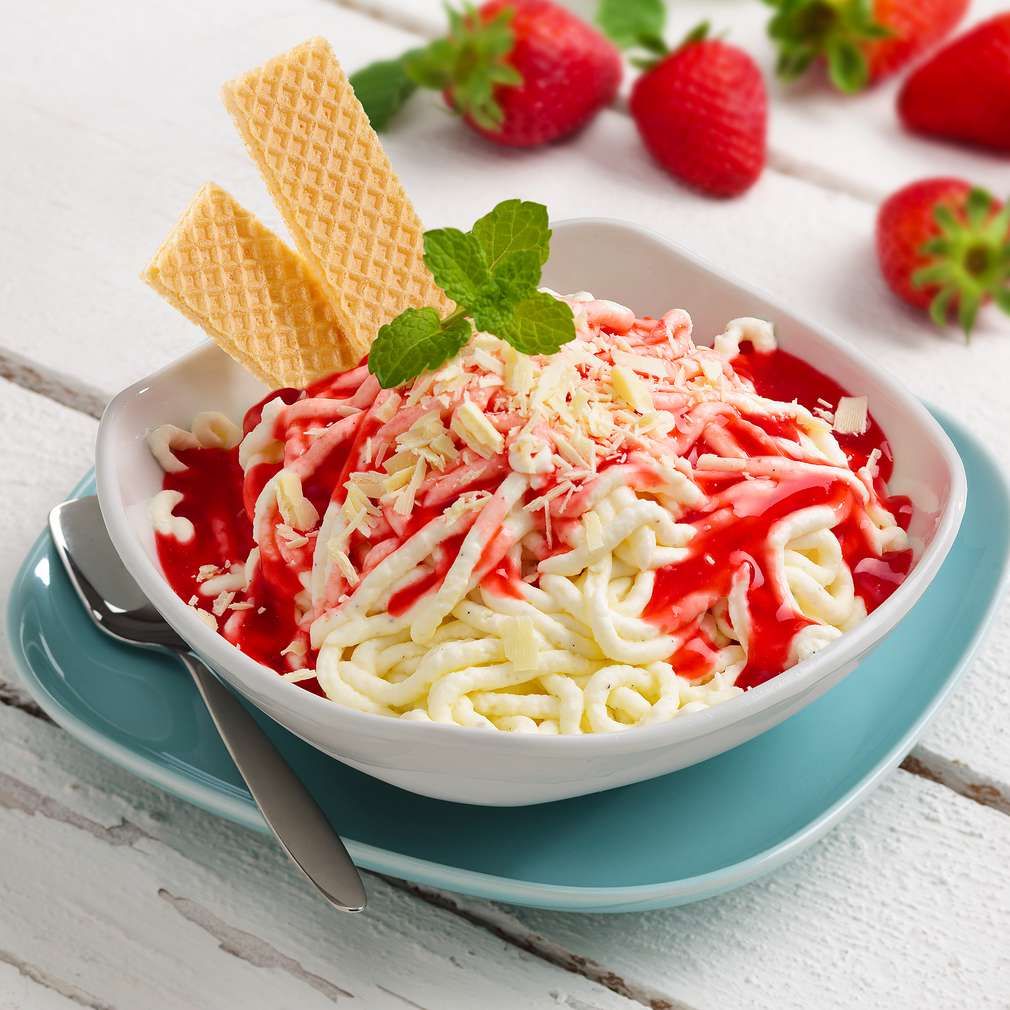 Spaghettieis is a German ice cream dish made to look like a plate of spaghetti. In the dish, vanilla ice cream is extruded through a modified Spätzle press or potato ricer, giving it the appearance of spaghetti.
7. Eiskaffee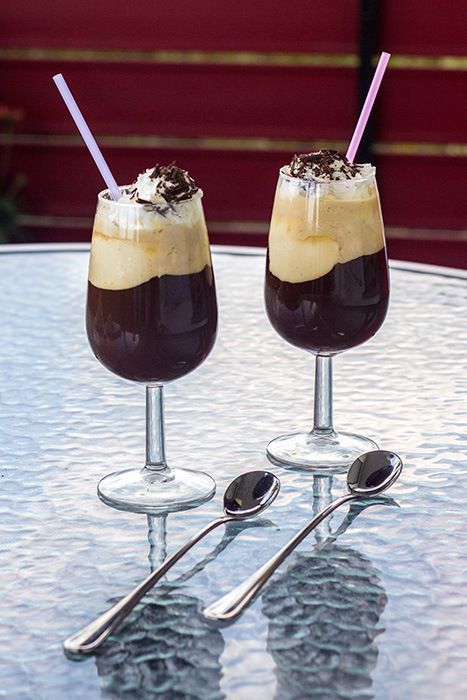 It is an iced coffee, served chilled, brewed variously with the fundamental division being cold brew, brewing the coffee cold, yielding a different flavour, and not requiring cooling or brewing normally and then cooling, generally by simply pouring over ice or into ice cold milk.
8. Zwetchenkuchen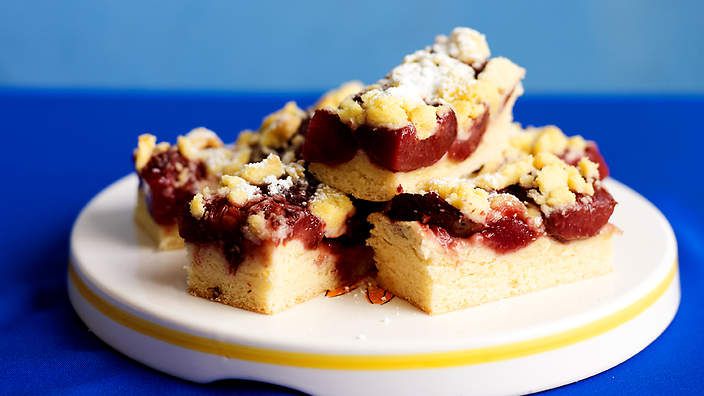 The classic German plum cake topped with streusel on a bed of fluffy yeast dough, Zwetschgenkuchen is German baking at its best.
Is Your Mouth Watering Yet?
Which of these traditional German desserts do you want to try? Let me know in the comments section below!