God reside there where women are worshipped.
In spite of using the quotation since ancient era, things in the present time have turned upside down in the society.
The dowry system is one of the oldest existing customs in India. It is a social evil prevalent not only in India but also in other parts of the world. Many of the traditional customs have been given up but the custom of dowry has not only continued but flourished over the years. It reflects and perpetuates man's superiority over a woman and hence is a mockery on the very idea of gender equality.
In India, dowry is mentioned as the durable goods, money and movable and immovable property that is given to the bridegroom, his parents, friends, and relatives by the bride's family during the marriage. It essentially includes jewelry, cash, furniture, crockery, utensils and other household items that are required to start an independent family of the newly wedded couple.
The system of dowry has prevailed since ancient era and validates its practice as a custom and tradition that strengthens solidarity. Besides, with the passage of time, it has evolved and the rates are primarily fixed for IAS, IPS, IFS, PCS, IES officers, doctors, and engineers. In most instances, bridegroom's family shamelessly present a list of things which they want. Besides it also serves the purpose of investment for some businesses and emigration abroad. There is no other social institution which has been as commercialized as marriage.
This evil has become so grim that there is hardly any day when one does not read of dowry death in the national daily newspapers. Some of these even contain physical violence, emotional abuse, and murder of brides and young girls prior to and after the marriage. In India, there has been a large number of reports of dowry death with maximum occurring in Uttar Pradesh followed by Bihar and Madhya Pradesh.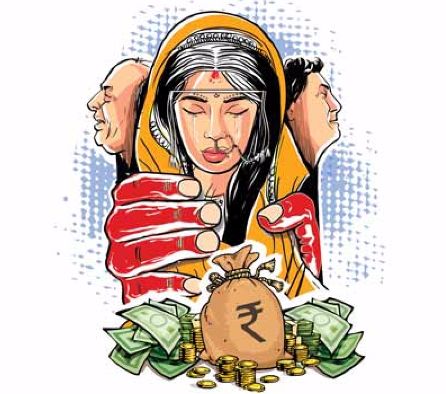 The government has taken several steps to stop the abominable practice of dowry. The Dowry Prohibition Act 1961, marked the beginning of a new legal framework of dowry harassment laws. It prohibits the request, payment or acceptance of dowry and levies penalty for the same. Apart from this, Section 304B was added to the Indian Penal Code which made dowry death a punishable offense and Section 498A was included in 1983 to protect women from cruelty and harassment. In 2005, the government of India passed the 'protection of women from Domestic Violence Act' to provide a civil law remedy. In addition to this, Section 113 B of the Evidence Act 1872 creates an additional presumption of dowry death when it is shown that before her death, the woman has been subjected to cruelty.
India is also party to several international human rights instruments which provide theoretical remedies to the dowry problem. These include Universal Declaration of Human Rights (UDHR), the Convention on the elimination of All Forms of Discrimination Against Women (CEDAW), International Covenant on Civil and Political Rights (ICCPR), and the International Covenant or Economic, Social and Cultural Rights (ICESCR).
Apart from this, several women's organizations have come into being in order to check this evil. Media is also playing an important role in curbing this menace from society. State Governments have come forward with better legislation. Even our young boys and girls are taking an oath not to follow this evil custom anymore. Much has been done, but much more need to be done.
It may be concluded that the abolition of the dowry system would be a landmark social reference. Though the reason behind the implementation of this custom is unknown, it quite evident that it has failed desperately. The time has come to scrape the roots and branches of this system. The situation is alarming and unless we open our mind and create awareness among people, the battle against this phenomena is difficult to win.