YOUTUBE is the biggest platform where one can learn many things. Moreover now a days this is treated as a platform for education. This entertainment source provides many opportunities for an individual to develop in one's life. One can develop new skills by watching videos in YouTube.
According to a research, people say that the mostly searched stuff is about ANDROID and WEB DEVELOPMENT.
Usually Android Development is defined as the procedure in which applications using Kotlin, C++ and also Java languages are developed which indeed helps in the functioning of android operating system.
Now let us take a look on Web Development. Usually Web Development involves the creation of web site. The website will be made accessible in two ways i.e., it is developed for both Internet and Intranet.
Now let us have a look on some of the best YouTube channels which promote information on Android and Web Development.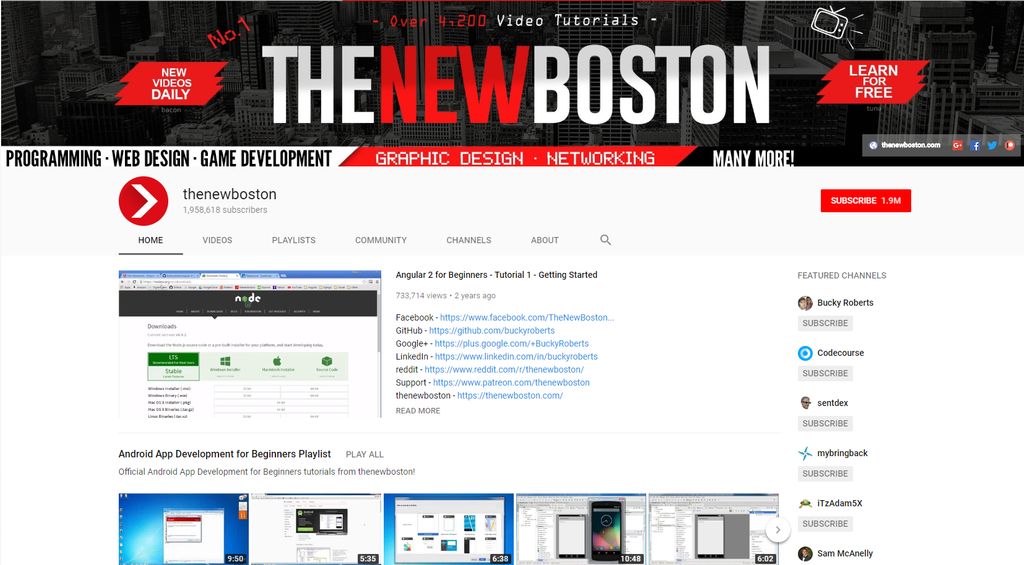 This admin of this channel post tutorial videos on game development, computer programming, web design and also more about computer related stuff.
The tutorials might include the languages like Python, Java, Ruby, Grunt, Angular 2, Objective C etc.
It is also a popular channel who would be receiving almost 30 million views for a video after it has been uploaded in just a month. The admin of this channel usually prefer to upload videos on Wed designing and development and programming languages. That may cover languages like Python, Ruby, Java, JavaScript etc. The courses like Android, Objective C, HTML also receiver good appreciation from viewers. The tutees who wish to acquire knowledge in web development then this channel would be a good choice to accomplish their dreams.
The admin is a full stack developer who is familiar with HTML, CSS , JavaScript and also some back end languages and they work with applications with both back and front ends of an application or website. The mostly covered tutorials in this channel are about new web technologies Angular 2, CSS,HTML, Rails, Android, PHP, SQL and more.
This is a book room of PHP tutorials. This is the channel for PHP tutorials which provide information about PHP from scratch. One can easily design a complete website using their tips and tricks. If an individual want to get through deeper roots if PHP then they can also go through their paid courses.
Adam Khoury has been successfully in the past years since it's begin teaching and providing a good quality of information in web designing and programming languages. One would find courses on JavaScript, PHP, CSS, HTML with tutorials.
The founder of this channel is Mr. Scott Tolinski. He has been working hard to help all his fellow peers in learning about web development. The videos in this channel help the beginners in understanding the content very easily. So this is the channel which can guarantee someone who has good determination in learning and have passionate in exploring new talents would help them to maximum extent.
The inventor of this channel is Mr. Jesse Boyer. He is victorious in creating a good platform for learners who have curiosity in gathering intelligence about topics related to computer.
This channel draws the viewers towards their tutorials on web design and also on development of websites. They are posting good quality tutorials on the some of the topics like HTML, JavaScript, CSS,Joomla channel and Bootstrap, etc.
I strongly recommend this channel. This is the channel which uploads different videos in their unique style. Videos on Ruby, CSS, SASS, Bootstrap, HTML5, jQuery etc are some of the courses which are provided by this channel.
This is the channel which also supports premium stuff. Mostly the videos in this include on HTML, CSS, WordPress and jQuery.
The founder is of this channel is a UK resident. His videos have a good stuff in his video. He also make videos on Level, Gulp, CSS, C Sharp, HTML, PHP, C++, etc.
This channel is started. by Neil Rowe whose main intention is to provide information of web development from scratch. The videos he made are quite easily understandable and he also helps students in breaking down the problems in web development which consists appreciable complexity in them.
This is a very accepted YouTube channel which on web designing and developing. One can find in depth details about many web development topics in this channels.
This is a familiar to channel to all who love web development and coding. The videos in this channel mainly involve topics like SASS, jQuery, PHP , Freelancing and Bootstrap.
This channel will be ready with all trendy updates. Because of this reason it has been admired by many viewers. Most of the viewers believe that this is best channel for learning Bootstrap. Also one can find video on WordPress, React and Foundation along with Bootstrap her.
WebDevMentors is the channel which provides knowledge on the topic of front-end development. The give step by step information on Bootstrap, Java and Python. They upload videos on Android, HTML, Foundation and PHP also.
Mr.Kirupa, the founder of this channel is a Senior Program Manger at Microsoft. He is running this website with a main intention of helping the people who have a passion of learning web development course. He is so kind that he is supplying this course for free. Tutorials of Courses offered by them are HTML, JavaScript, Web animations and CSS.
Mitch had been successful in being called as one of the famous android developers. He teaches everyone on how to build applications usually like cone apps. The subscribers of this channel are quotes happy because of the content they are posting and also they appreciate the hard work being the good quality of the visors and well edited content.
Android developers is usually the formal channel where the developer team of Android are behind it. This channel is best source of latest information. One can likely notice the recordings of talks about the events between Google I/O and Android Dev Summit.
Global contains lots of information about IntelliJ IDEA and Android Studio features ,tricks and tips. Goobar also announced that they have started a series on Kotlin. People who wish to have a contact with him can contact him through social networking sites like Instagram and Twitter.