In this competitive business world where every businessmen tries to do his best to make his business grow, they often used to refrain from starting their export business but now it has become quite lucrative in India since the inception of e-commerce which allows such companies reach the global audience resulting in an increase in the Export Business.
So what is Export?
As per FTD & R act, export is defined as an act of taking out of India any goods by land, sea or air and with proper transaction of money.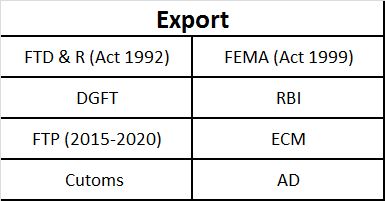 And similarly an export business is a company that sells goods or services internationally to its clients.
The Export Business has a great potential, many entrepreneurs, small as well as big companies are stepping in Export Business to reach out to a large audience, promoting their business, creating brand value and the most important thing earning a great profit.
India's exports are expected to record a growth of about 15-20 per cent and touch USD 350 billion in the current fiscal on account of a host of factors including rise in commodity prices, exporters body reported by Federation of Indian Export Organizations.
Exports from India increased 11.02 percent from a year earlier to USD 32.55 billion in March 2019, boosted by sales of organic & inorganic chemicals (16.98 percent), engineering goods (16.27 percent), RMG of all textiles (15.13 percent), drugs & pharmaceuticals (13.59 percent), and petroleum products (6.55 percent). Considering April to March 2018-19, exports rose 9.06 percent to USD 331.02 billion from USD 303.53 billion in the same period of the previous fiscal year. Exports in India averaged 5520.43 USD Million from 1957 until 2019, reaching an all time high of 32550 USD Million in March of 2019 and a record low of 59.01 USD Million in June of 1958.
But often times people fail, as they don't have a correct path or procedure to follow. Following the correct procedure and strategy is crucial for a successful Export Business.
First and foremost, you must have a business setup of course. It is recommended to open a sole proprietorship in the initial stage by taking a Service Tax registration or a VAT registration,
Then comes the PAN card under the registered business set up by Income Tax department, after which you have to open a current bank account exclusively for your business.
Import Export Code (IEC) perhaps one of the most important requirements for your Export business after having your business setup which can be issued on the basis of documents you've gotten ready prior i.e. PAN card. You can get your IEC through a simple online procedure too from DGFT website.
If you are shipping by Sea, the type of service you will require are Consolidation, LCL (less than
container load), FCL (full container load), RORO (roll-on roll-off) or Heavy-Lift, Break-bulk or
Project Cargo. The other requirements will be documentary, packing of the products for
Shipment, labelling of the products and insuring the Shipments. Export also have secure payment
methods. Now one of the most important part for the seller will be the method of payment from
the buyer.
And the last step of this tedious documentation is Registration-cum-Membership-Certificate granted by Export Promotion Councils