Generally, the process of wagering of money is termed as gambling. Elements as consideration, prize and risk are thus requires in the process of gambling.
Gambling is procedure in which people play games of chance by keeping money also termed as betting in something. Usually gambling has another definition too. It says that gambling is an action of taking a risk hoping for the desired result.
Today technology has made everything possible and quite easier. Therefore, gamblers have made online as their platform and thus trading the money in huge amounts. The word ONLINE GAMBLING deals with the risking of money on casino or sports like/type games in the internet.
PROS AND CONS:
As we know that about a double-edged sword, thus we can relate it with the online gambling too.
Now after reviewing the pros and cons of ONLINE GAMBLING here are some of the points which show how online gambling is good as well dangerous for an individual.
·ENTERTAINING AND EXCITING: Usually gambling is termed as a fun activity. People who are quite sensitive about losing their money might get disturbed and feel tensed more often while playing but in general people take or consider gambling as a more fun activity.
·CONVENIENCES and COMFORTS:Online gambling helps the torpid players to maximum extent. This is because they do not need to go to the gambling area. Thus, one can play from their own place and enjoy the flavour of gambling.
·The people irrespective of their designation can play freely in online.
·The online gambling is quite suitable for all budget individuals.
·In online gambling, people are provided with immense choice of settings and gaming options.
·The gambling websites provide their customers with good amount of incentives for playing with them. Thus, this attracts the new customers. Meanwhile the new customers are offered with pretty amount of incentives.
·However, one thing to be noted always is, one should carefully read the terms and conditions before accepting the bonuses and rewards from the website.
PRIVACY AND SECURITY: Normally many people are in a state of mind that online gambling might result in many further serious issues.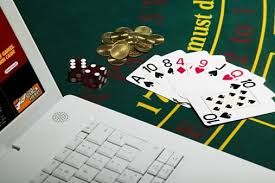 ·However, the thing is that compared to offline gambling, ONLINE GAMBLING is quite safe and secured one. Here the money got is transferred to the players account very perfectly.
Now let us consider the cons of online gambling:
1) Studies speak that gambling has become so addictive to many individuals. This is because propel are quite comfortable sitting at their respective places and start gambling all around the clock. Thus, there is no limit for gambling in certain cases. Therefore, this makes gambling a very bad habit.
·2) Today gambling has been done by many reputed companies in an ethical and fair manner. Nevertheless, we are sure about the existence of some frauds who make gambling a bad thing. Because of such people, many players usually panic in depositing money in online as they fear of getting despoiling off.
·3) ONLINE GAMBLING is thus successful in keeping ones information private. However, this lacks the interaction of the player with the host and the fellow players.
·4) Traditionally the cash out times are very long.This is because if a person lives far away from the gambling area (and in places like America) people who won usually are paid with their won money little late. However, this is not in the case of top sites. This is because they take proper steps in funding the amount that the player won.
·Therefore, it is better for everyone to read the laws that apply to the place where player lives and thus being are of such things before getting into betting is a very thing.
5) Mostly many of the gambling sites will not charge an individual with the transaction fees. Therefore, everyone who is interested in gambling will go ahead. However, one should note it is the individual's bank or debit card or credit card might charge them with the some fees. These fees are although small but in long-term usage, they sum up to huge amount. So one should be careful about this point.
In conclusion, everyone should note that GAMBLING is a very bad thing and is often risky. Although online gambling is also quite risky as that of offline one so one should get into gambling once after reading all the terms and conditions. Even the player should be comfortable in gambling and must be dare enough to face the truth in future.