It is health that is real wealth and not pieces of gold and silver.
Health and fitness is the key to a long, active and enjoyable life. It is correctly stated that Health is the actual Wealth that a person can retain throughout his life. Health, as defined by the World Health Organisation (WHO) is, "a state of complete physical, mental and social well-being and not merely the absence of disease or infirmity. People need to realize the importance of staying healthy and fir, especially the children being the future generation, play a vital role in creating awareness and maintaining a stable health regime. Being healthy and fit in simple terms means taking good care of the body. We should always remember that a healthy mind resides in a healthy body. Some of the important instances that define a healthy living or healthy lifestyle include protecting our body from the intake of harmful substances, doing regular exercise and yoga, having proper food and proper sleep.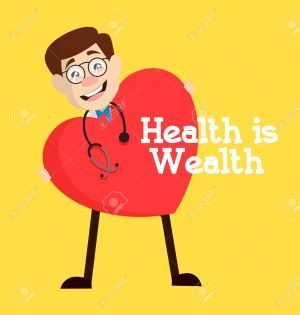 KEY FACTORS:-
The environment in which an individual lives is of great importance for both his health status and quality of life. Key factors that have been found to influence whether people are healthy or unhealthy include the following:-
Income and social status
Personal health practices
Education and literacy
Social and physical environment
Working conditions
Some of the points to be kept in mind for staying fit and healthy are:-
A person should have a healthy diet that consists of taking in proper and healthy food items which includes eating green and fresh vegetables, fruits, having milk, eggs, minerals, proteins and vitamins essential for a human's daily lifestyle.
Practicing yoga involves regular exercises in our daily routine and also helps to maintain the desired fitness, blood sugar and immunity level.
Spending time outdoors in the sun, inhaling fresh air and staying active by taking part in healthy activities makes us feel energetic.
One should maintain a clean and tidy environment around himself to stay fit and healthy.
Taking appropriate amount of sleep and drinking loads of water as it helps to release toxins and improve one's metabolism.
Hygiene and sanitation are also major factors that affect the health of a person. Sitting at a place that is not properly clean can instantly make a person unwell and lead to various diseases. Good personal hygiene is one of the most effective ways to protect ourselves and others from many illnesses.
A person who is fit both physically and mentally is strong enough to face the ups and downs of life, and is not affected by drastic changes in such circumstances. Health is the most important thing that a person should take care of. Leading a healthy lifestyle leads to happiness, success and achievements.