Hands are the very integral part of our body but taking care of the hands can be really tiring and confusing sometimes. The internet is flooded with millions of DIYs and hand creams for taking care of the hands. With so many different brands and types available it can get really confusing as in which one is going to be the best for us. Going to the salon can also be really expensive and time-consuming plus there are so many options available it is difficult to choose from.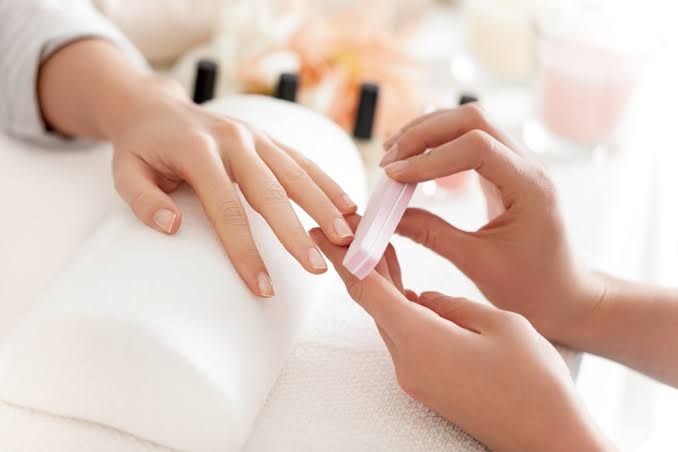 A perfect manicure is a necessity for every woman on this earth. For those who have ever had a manicure in their lives and those who wish to have one soon, this article is just for you. In this article, we are going to discuss all about American Manicure. For immature ladies or for those who are new to a manicure, this might just seem like a French Manicure but better. Technically, it is.
An American Manicure is just an upgraded version of a classic French manicure. The classic white tip is sealed for a more neutral and natural colour. This creates a more blended and even-toned look. Even the nail shape changes from a square tip to a more rounded tip for a more polished appearance. American Manicured nails appear to be more translucent, shiny and more polished. A perfectly manicured nails can make all the difference. If you don't believe me, try it for yourself. Just getting your nails done can make you look way more sophisticated and put together. Just like the French Manicure, the base starts with a slightly pink tint gradually building up to a more neutral or white colour. Finally, the tip is painted in the shape of an inverted V in order to maintain the natural look of the nails.
The basic differences between a French Manicure and an American Manicure:
We have talked a lot about what is American Manicure. Now let us spot some striking difference between a French and American Manicure. There is nothing much to differentiate on the first go but if you look closely there are quite a few different features. They may be minor and negligible but are still quite noticeable. So, let's have a look at what are these.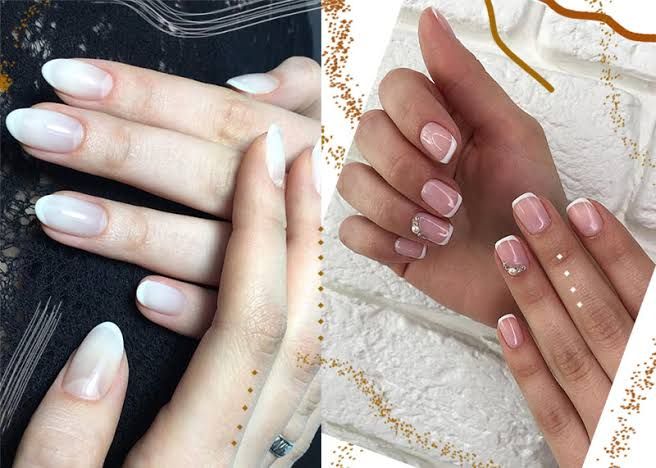 First, in terms of colour French manicure is all about the classic bold white tip while American Manicure is all about the flesh toned and more muted colours. In a French manicure, the base colour is always pink while in American Manicure the base can be pink, or nude colours gradually building up the intensity. Sometimes even red is used in this Manicure.
Second, talking about the shape of the nails, the French Manicure has a square tip while in American Manicure it is a more rounded shape. However, there is no mandatory shape in American Manicure, there is always room for experiments.
Speaking more to the normal public and leaving out all the technical definitions, American Manicure is all about enhancing your natural features which you already have just in a better way.
Now you have known all about American Manicure. We have provided a lot of information about what to look for and how to spot the differences. So next time, when you hit the salon you will definitely know what to ask for and what to look for while getting a classic American Manicure. Speaking of which, going to a salon every time is not the option for most of us. Either we lack the time or it just does not fit our budget. No worries ladies, we have got your back. We are now going to share with you some tips and tricks about how to get a perfect American Manicure at home without digging a hole in your pockets. These are for the days when you feel extra self-love and you are just in the mood of pampering yourself. The best thing about this manicure is that you don't have to be picture perfect since this look is all about being natural. Some mistakes are acceptable because nobody is perfect, right?
Prepping your nails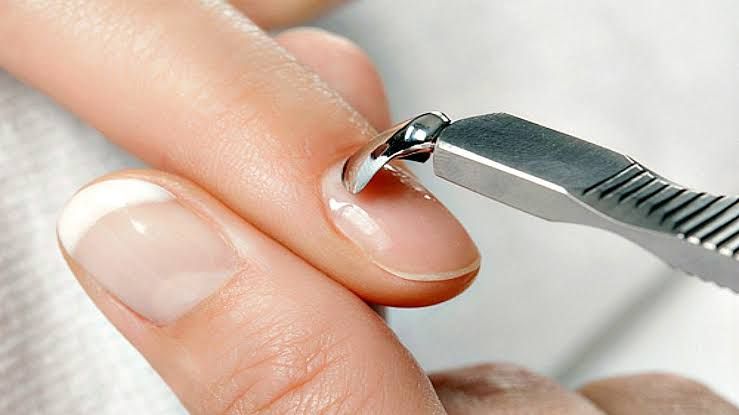 This is a no brainer. Prepping your nails for a manicure is always the first step of any manicure. Start by removing your previous nail paint. If you do not have any then directly begin with the next step which is trimming your nails. Give the shape that you want but make sure to make it look natural and not fake. The tip for getting that salon like manicure is to groom the cuticles. Use a cuticle remover and an orangewood stick to push the cuticles back to position. Now using the flat end of the stick gently massage your fingertips to remove any dead skin cells. Once this is done, dip your nails in a container with warm water and some shampoo or hand wash. Let your hands soak in it for about 10-15 minutes and then gently massage your hands with a loofah to scrub away all the dead skin. After all of this wipe your hands dry and get all ready for the nail painting step.
Things you need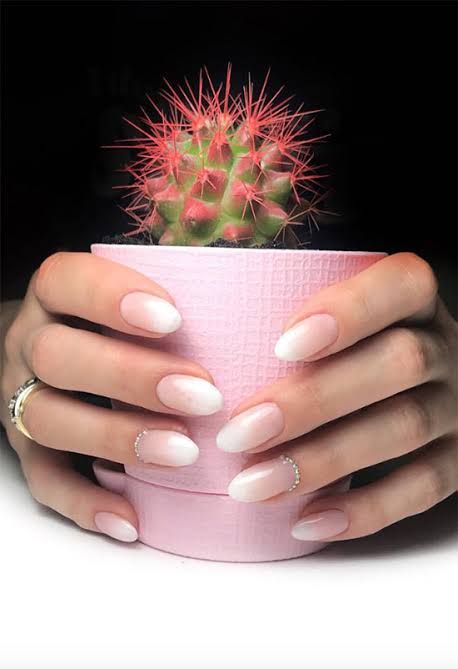 • A clear base coat.
• Nail paint of your choice preferably nude, beige or light pink.
• A tip colour preferably ivory, off-white or pale nude.
• A clear base coat.
• Manicure strips. Steps to follow
• Start by applying a clear base coat and let it dry.
• After this use the beige, nude or pink colour as the base colour for your manicure. Make sure to apply just one coat of this in order to make it look more natural. Let it dry.
• After this use the ivory or off-white colour as the tip colour using the manicure strips as a guide. Let it dry as well.
• To make the tip appear more prominent you can apply a second coat of it and let it dry.
• Once everything dries finish it off with a clear top coat and you are all set to rock your all-new American Manicure.
You can use rhinestones or nail art or embellishments to make the appearance more pretty and beautiful. You can also modernize the classic look by using a combination of glitter nail paint along with the neutral colours.
Do's and Dont's of American Manicure
There are some rules to follow if you want that appropriate American Manicure look. Here are some Do's and Dont's for this manicure look.
Do's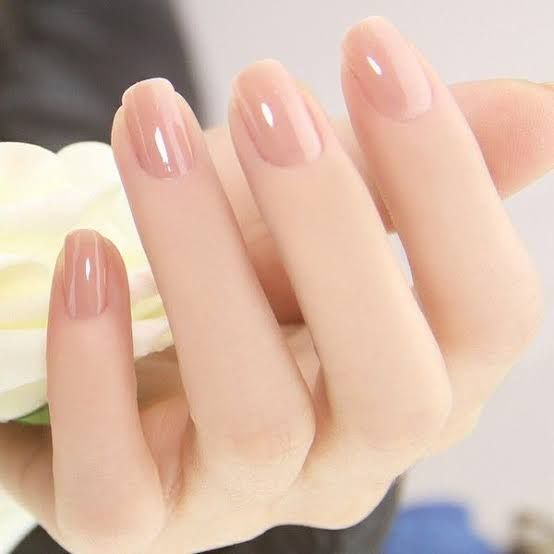 • It's best to stick to nude nail paint and say yes to short nails. A little creativity is allowed but nothing over the top is required. The more subtle look the more charming it will be.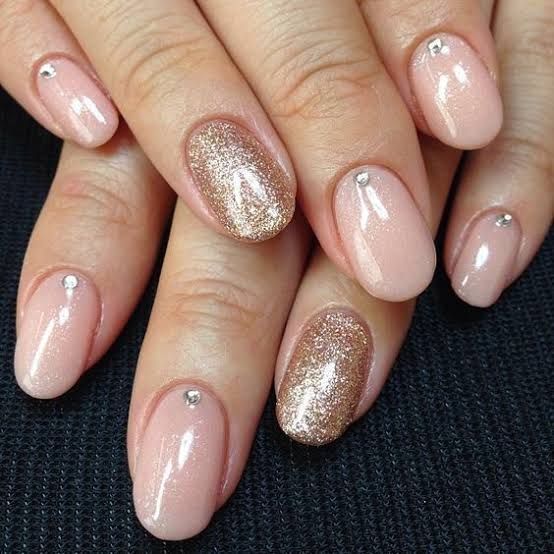 • A little shimmer and metallic effects are allowed. These can add a little touch of modernity to the classic American Manicure.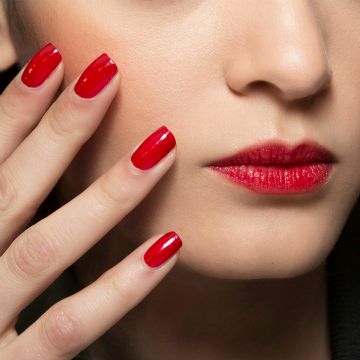 • Say yes to red. If you feel neutrals to be a little bland and boring then red is always an option. A little pop of colour can do no harm. All shades of red will prove to be too cool for the summer.
Dont's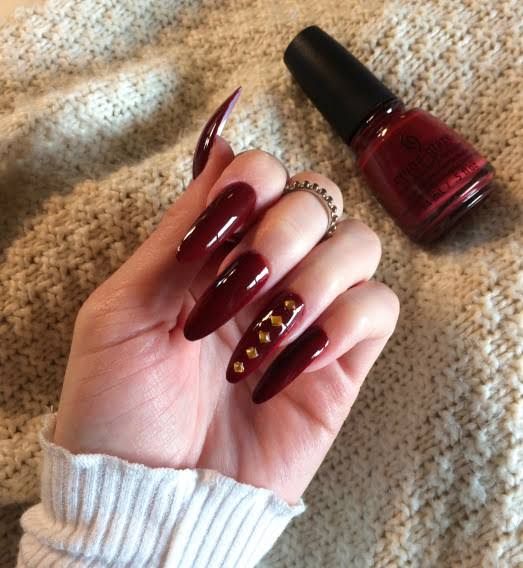 • No tacky long nails are required. Keep the nails simple and short. Abstinence from long nails can maintain the true essence of American Manicure.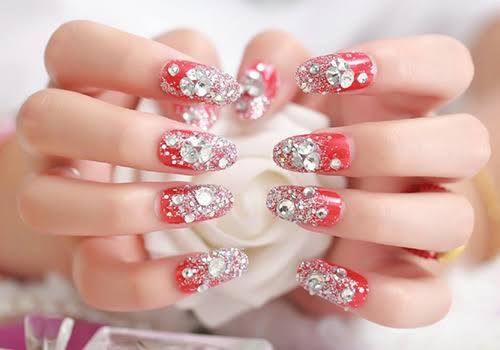 • Stay away from over the top nail arts. Subtle arts and embellishments are acceptable but going overboard with it are not required.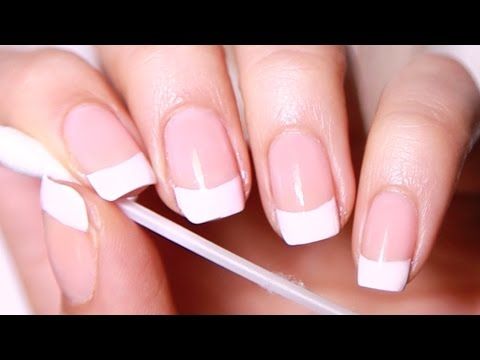 • Ditch the basic old French Manicure and try something new. American Manicure is a good way to start if you are new to manicures and want to Do it Yourself at home. That was all this article. Hope you enjoyed this and got all the information needed to do American Manicure.
With all the information provided try it out yourself for the soft, subtle yet glam and chic look.